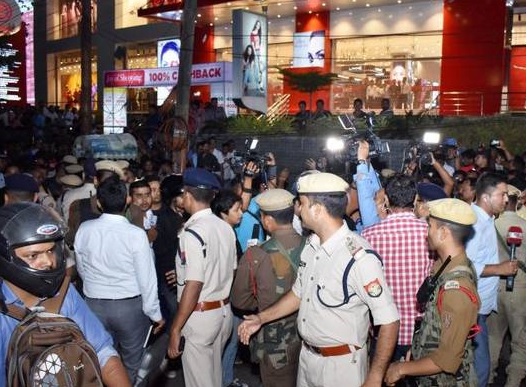 The Guwahati Police have arrested a sleeper cell member of the United Liberation Front of Asom (Independent) and an actress for their suspected role in the grenade blast in the city on May 15 that injured 12 people.
The police also recovered 20 kg of gunpowder, one 9 mm pistol, 25 rounds of live ammunition, ULFA documents, mobile phones and other "incriminating materials" from their rented accommodation at Panjabari locality in the city on May 16.
"We have arrested Pranmoy Rajguru, who is an ULFA (pro-talk) militant. He was acting as a sleeper cell of the outfit and was responsible for arranging all the logistics," said Guwahati Police Commissioner Deepak Kumar.
Even though ULFA chief Paresh Baruah had reportedly claimed responsibility for the blast minutes after it occurred, the police was tight-lipped about the involvem ent of the outfit till these recoveries. However, Paresh Baruah has made no comments since Rajguru's arrest.
Rajguru, Kumar said, had joined the militant group in 1986 and is a senior cadre of the outfit.
"The woman, identified a TV actress Jahnabi Saikia, was his accomplice in the crime. The house was rented by her and they moved there on May 1. They keep changing their locations," the police commissioner said.
Kumar said both of them have confessed to their involvement in the grenade blast. The police claimed to have identified two-three more people for their role in the crime and investigation is underway to nab them.
At least 12 people, including two SSB personnel and a woman, were injured in the grenade blast in front of a shopping mall in the heart of the city on Wednesday evening. According to the police, two people riding a motorcycle had hurled the grenade in front of the shopping mall around 8 pm. It was suspected the attack was aimed security personnel since Sashastra Seema Bal (SSB) jawans were on patrolling duty with Assam Police personnel near the barricade.
Last year in October, ULFA (I) had "triggered" a low-intensity explosion in Guwahati in the Fancy Bazar area. The outfit had then claimed that it was a warning to those supporting the rehabilitation of Hindu Bengalis through the Citizenship (Amendment) Bill, 2016. The police, however, had dismissed the ULFA claims at the time.