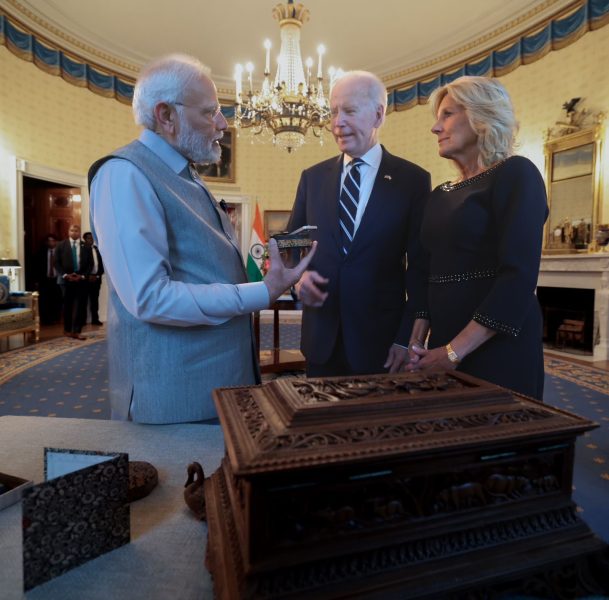 7.5 carat green diamond, sandalwood box | What PM Modi gifted Bidens
Prime Minister Narendra Modi was accorded warm welcome by US President Joe Biden and First Lady Jill Biden at the White House on Wednesday. The leaders exchanged gifts during an intimate dinner hosted by Biden for PM Modi.
US President Joe Biden and the first lady presented Modi with a handmade, antique American book galley from the early 20th Century. They also gifted him a vintage American camera, accompanied by an archival facsimile print of George Eastman's Patent of the first Kodak camera, and a hardcover book of American wildlife photography, the White House said.
Also read: PM Modi, President Biden will discuss Ukraine issue: White House official
Prime Minister Narendra Modi too brought a variety of gifts for Joe and Jill Biden. He presented Joe Biden a special sandalwood box handcrafted by a master craftsman from Jaipur in Rajasthan. The sandalwood sourced from Karnataka's Mysore has intricately carved flora and fauna patterns on it.
The box contained a silver idol of Ganesha, an oil lamp, handcrafted by a family of fifth-generation silversmiths from Kolkata, a copper plate, and 10 silver boxes that contained symbols – Das Danam or the ten donations.
Modi also gifted Biden a copy of the first edition print of this book, 'The Ten Principal Upanishads' published by M/s Faber and Faber Ltd of London and printed at the University Press Glasgow.
Modi gifted a lab-grown 7.5-carat green diamond to US first lady Jill Biden. The diamond reflects earth-mined diamonds' chemical and optical properties. The diamond is also eco-friendly, as eco-diversified resources like solar and wind power were used in its making.
Also read: Biden to bring up human rights but not lecture Modi on it: White House
The green diamond is sculpted with precision and care using cutting-edge technology. It emits only 0.028 grams of carbon per carat and is certified by the Gemological lab, IGI. It bears the hallmarks of excellence through the 4C's – cut, colour, carat and clarity. It is a beacon of responsible luxury that symbolises India's 75 years of freedom and sustainable international relations.
He also presented Papier mache to the first lady. It is the box in which the green diamond is placed. Known as kar-e-kalamdani, Kashmir's exquisite Papier mache involves sakthsazi or meticulous preparation of paper pulp and naqqashi, where skilled artisans paint elaborate designs. The gift is indeed, an embodiment of India's vibrant cultural tapestry.