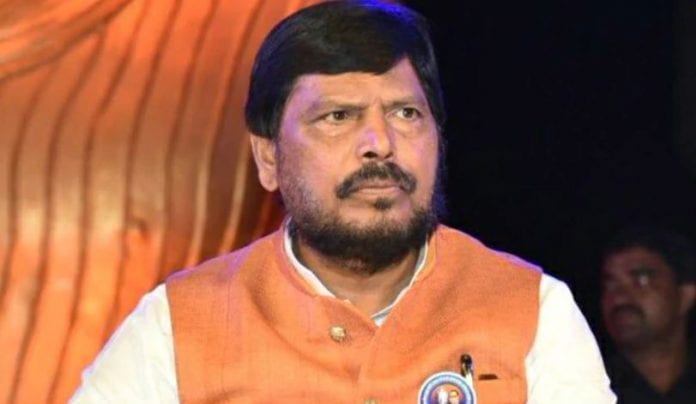 Union Minister Ramdas Athawale's call for banning Chinese food after the face-off between Indian and Chinese troops in eastern Ladakh's Galwan Valley, was ridiculed on social media on Thursday (June 18) with many users pointing out that it was the Indians who prepare Chinese foods in the country.
Tensions between India and China escalated following a clash between the militaries of the two Asian neighbours on June 15 night, during which at least 20 Indian Army soldiers were martyred. However, the exact casualties on the Chinese side is yet to be known. It was the biggest confrontation between the two armies in over five decades.
Following the incident, the call for boycotting Chinese products has emerged from several sections of the society, including politicians. Earlier in the day, Indian intelligence agencies red-flagged 52 Chinese apps, including Zoom and TikTok, over data security concerns.
Advertisement
Athawale, who had earlier come up with the 'go corona, corona go' slogan to ward off the viral pandemic, soon called for banning of Chinese food. "China is a deceitful country. India should boycott all Chinese goods. Chinese food and Chinese hotels should be closed in India!" the Union minister said in a tweet in Hindi.
चीन धोका देनेवाला देश है.भारत मे चीन के सभी वस्तुओंका बहिष्कार करना चाहीये.चायनीज फूड और चायनीज फूड के हॉटेल भारत मे बंद करने चाहीये ! pic.twitter.com/ovL2sOLUo4

— Dr.Ramdas Athawale (@RamdasAthawale) June 17, 2020
However, it backfired! The minister received many responses on social media with many appealing to spare Chinese food items. Athawale's call to ban Chinese food in India was ridiculed, triggering jokes over his statement.
RELATED NEWS: After 'Go corona', Union Minister Athawale says boycott Chinese food
Many users pointed out that it was Indians who make Chinese food in the country, and boycotting them would be self-sabotaging. The Chinese food which people enjoyed In India, has little to do with the food eaten in China, the users pointed out.
Go Chowmein, Chowmein Go. https://t.co/cr2hpvOScY

— Abijit Ganguly (@AbijitG) June 18, 2020
After an unexpected success in S1, everyone feels the pressure in S2.

And it's showing. https://t.co/MeIoVSqMqw

— वरुण 🇮🇳 (@varungrover) June 18, 2020
India me Chinese food Indians hi banate hain @RamdasAthawale sir. Isse China ko koi revenue nahi jaata. Ban karna hi hai to tiktok ban karwaiye.

— THE SKIN DOCTOR (@theskindoctor13) June 18, 2020
indian cook getting boycotted for selling indian chinese gobi manchurian pic.twitter.com/lB48ocPgGI

— Sour (@Sour258) June 18, 2020
Both noodles will be banned — Maida wale and Athawale

— Pranav Sapra (@pranavsapra) June 18, 2020
This is the same man who stood on a street with the Chinese Consul General in Mumbai and said "go Corona, go"…he's certainly evolved…😄 https://t.co/kPxwNTfANr

— SUHEL SETH (@Suhelseth) June 18, 2020