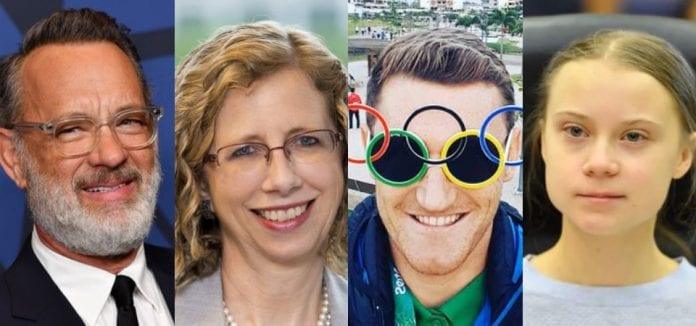 Coronavirus, which has brought life to a standstill across the world, has nonetheless united the global community and amplified voices of solidarity among citizens irrespective of borders.
In the midst of the rising cases and fatalities caused by the virus across the world, scientists, medical practitioners, sportsmen, environmental activists, actors, authors and politicians are constantly sharing words of caution or comfort to help minimise both the scare and the spread of the virus.
This too shall pass: Tom Hanks
Bollywood actor Tom Hanks, who with wife Rita Wilson has been put under quarantine after contracting coronavirus in Australia, had a message for his fans on Sunday (March 22).
Updating fans on his health on Twitter on Sunday, the actor said both he and Rita are tackling the disease by taking care of each other and giving up some comforts.
— Tom Hanks (@tomhanks) March 23, 2020

"Sheltering in place works like this: You don't give it to anyone -You don't get it from anyone. Common sense, no? Going to take a while, but if we take care of each other, help where we can, and give up some comforts…this, too, shall pass. We can figure this out. Hanx" he tweeted.
Hanks and Rita have been under quarantine in Australia after they tested positive for COVID-19 while visiting the country for pre-production work of a film.
Earlier, Hanks had told fans that he is going to take it "one day at a time."
Coronavirus, a message from nature: UN environment chief
Inger Andersen, executive director of the UN Environment Programme dubs the outbreak "a message from nature" to humanity and a call to protect wild spaces, alluding to the transmission of the virus from the wild.
Stressing that the immediate priority needs to be the protection of people from coronavirus and prevent the spread of the disease, Andersen says the world's long-term response should be to tackle habitat and biodiversity loss as 75 per cent of all new infectious diseases come from wildlife.
"Never before have so many opportunities existed for pathogens to pass from wild and domestic animals to people," The Guardian quoted her as saying on Wednesday (March 25).
"Our continued erosion of wild spaces has brought us uncomfortably close to animals and plants that harbour diseases that can jump to humans," she said.
'Players watch out, COVID's no joke'
It is unusual for an Olympian to revel when the Games are postponed, but former Olympic swimmer Cameron van der Burgh was happy man on Tuesday (March 24) when the International Olympics Committee postponed the games to until 2021 in view of coronavirus.
"Something to thing to smile about today…Next years @Olympics will be the biggest celebration after the world beats this pandemic!," he tweeted on Tuesday.
The 31-year-old retired swimmer, who recently contracted the disease, had earlier urged fellow athletes to be wary of training during coronavirus outbreak.
Terming COVID-19 "by far the worst virus" that he has endured despite being a healthy and young swimmer with strong lungs, he had said that the infection comes with a serious fatigue, exhausting one during physical activity.
Olympians face uncertainty with Tokyo Games delay over COVID-19
"The loss in body conditioning has been immense and [I] can only feel for the athletes that contract Covid-19 as they will suffer a great loss of current conditioning through the last training cycle," he wrote on Twitter.
"And those that do contract will try rush back to training most likely enhancing/extending the damage/recovery time," he added.
"Please, look after yourself everyone! Health comes first – COVID-19 is no joke!"
Stay at home: Greta
Swedish climate activist Greta Thunberg who on Tuesday has stressed the importance of self-isolation and checking for symptoms, especially for those returning from abroad.
The 17-year-old on Tuesday tweeted that she lost no time self-quarantining herself in a "borrowed apartment" soon after her return from Central Europe as she suspected to have contracted coronavirus
She warned that even mild symptoms should be taken seriously, as people may pass on the virus to others if they don't take the necessary steps as soon as possible.
She said she would have never suspected she has the virus if her father were not sick.
"My last cold was much worse than this!" she wrote. "Had it not been for someone else having the virus simultaneously I might not even have suspected anything."
She says she didn't get herself tested as in Sweden it is reserved for cases in need of emergency medical treatment.
Stating that she is "basically recovered" Greta warned others to be on the watch out for symptoms, and immediately self-quarantine oneself if they have it.
"Many (especially young people) might not notice any symptoms at all, or very mild symptoms… Then they don't know they have the virus and can pass it on to people in risk groups," New York Times quoted her as saying.
Also read: India's paradox: Rapid tech strides but poor record on infectious diseases