After one of the worst incidents of violence witnessed in New Delhi's Jawaharlal Nehru University (JNU) on Sunday night (January 5), student across the world have taken to the roads to express solidarity with the students of JNU.
From Pondicherry University, Bangalore University, University of Hyderabad (UoH) and Aligarh Muslim University (AMU) to London's Oxford University and New York's Columbia University, protesting students have come together to condemn the violence that took place in JNU.
Advertisement
The call to come together and register their protest against the brutality, only got stronger as the day passed, with social media being flooded with posters calling for unity.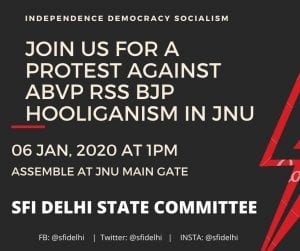 Students all over staged peaceful marches to register their protest against the violence in New Delhi's premier institution.
"Today it is them, tomorrow it can be us. Violence in any form is condemnable. We stand by our friends in JNU," Raiza, a Pondicherry University student said.
With Bhopal, Bengaluru, Patna, Chennai, Kolkata and around 10 more cities already planning to organise protests, the agitation is taking on a bigger form. Here is the list:
Protests in solidarity with JNU on 6/1/2020
Bhopal: Board office, Bhopal at 4 pm
Bengaluru: Town Hall at 10 am
Jaipur: Gandhi circle at 4 pm
Delhi: March from Sabarmati to North Gate. Assemble at Sabarmati Dhaba at 12:30 pm
Patna: Darbhanga House, Patna University, Muradpur Road at 1 pm
Ranchi: Firayalal Chowk at 5 pm
Raipur: Ambedkar statue, near Ghadi Chowk at 5 pm
Guwahati: Near Nehru Park at 4 pm
Jorhat: Near Jorhat Distt Court at 3 pm
Mumbai: Gateway of India, opp Taj, Hutatma Chowk Fountain at 4 pm
Punjab: Students Center, Punjab University at 1 pm
Kochi: Vanchi square, 5 pm
Chennai: Valluvar Kottam, 7 pm
Kolkata: Jadavpur University Playground at 2 pm; College Square at 5 pm
Ahmedabad: Footpath in front of IIMA residence gate at 5:30 pm
Violence broke out at JNU on Sunday night as masked men armed with sticks attacked students and teachers and damaged property on the campus, prompting the administration to call in the police.
Many were injured and admitted to the All India Institute of Medical Sciences in New Delhi.
JNU Students Union president Aishe Ghosh suffered a head injury. All 34 students who were admitted to AIIMS trauma centre were discharged on Monday morning.
The Left-controlled JNUSU and the ABVP blamed each other for the violence that continued for nearly two hours.