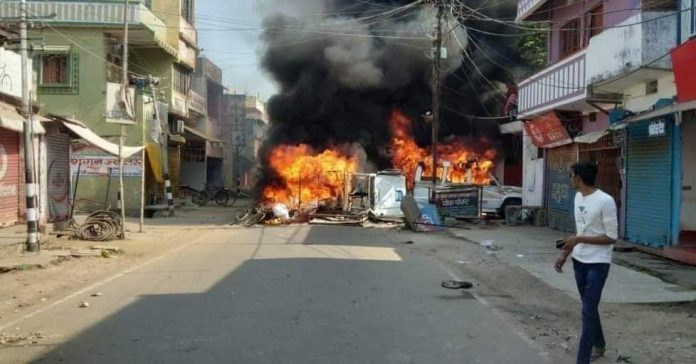 Five top police officials posted in Bihar's Munger district were relieved from their responsibilities for failing to contain violence during Durga Puja festivities on October 26, which caused the death of a youth and injured several others.
The station house officers (SHOs) of Kotwali, Muffasil, Kashimbazar, Basudeopur and Purabsarai police stations were axed on the basis of recommendations made by the police and the district administration.
The election commission gave permission to the district administration to act despite the model code of conduct for state elections being in place.
Modi condemns random incidents of violence by private individuals in France & Austria, but is selectively silent on his own BJP-JDU state govt excesses & brutal violence on peaceful devotees in Munger, Bihar.

Biharis are not fools.
#नहीं_भूलेगा_बिहार pic.twitter.com/jda1mGihht

— Geet V (@geetv79) November 3, 2020
"Prima facie, the report makes it clear that SHOs were lax in responding to the situation in Munger town. A timely response could have averted the violent incidents," said a senior official at the police headquarters.
What had happened?
Policemen lathi-charged and fired on devotees on the night of October 26 – the day of Durga puja idol immersion. A 19-year-old man, identified as Anurag Poddar, was killed in the firing and nine others suffered injuries.
An irate mob retaliated on October 29 with arson in police stations, damaged public property and torched several vehicles. Till date, 16 FIRs have been registered against 160 accused, including six police personnel, CISF personnel and around 3,000 unidentified persons.
An SIT (special investigation team) under the supervision of district SP Manavjit Singh Dhillon is assessing the damage caused to properties by the mob that went on rampage, torching police stations, vehicles and ransacked SDO and SP's office and residences.
The Munger district administration will recover the cost of damage caused to public and private properties from the culprits. The SIT is gathering evidence against the culprits with the help of CCTV footage.
Also read: Bihar voting for 78 assembly seats in final phase today
No arrest has been made so far. New SHOs have taken charge at the respective police stations.
Meanwhile, an RTI activist, Om Prakash Poddar, filed a complaint with the Bihar state legal service authority (BSLSA) wanting an FIR to be filed against DM Rajesh Meena, SP Lipi Singh, SDO, SHOs and deputed magistrates for firing at and baton charging devotees.
BSLSA's secretary Akhilesh Pandey has sought a detailed report from the Munger SP.
A CISF statement says that the local police fired first and they too fired only when the situation went out of control. The CISF said their objective was to disperse the mob.
"The dispute between the devotees and the police began around 11:45 pm on the night of  October 26. After this, some people started stone pelting on police and security forces," says the report.