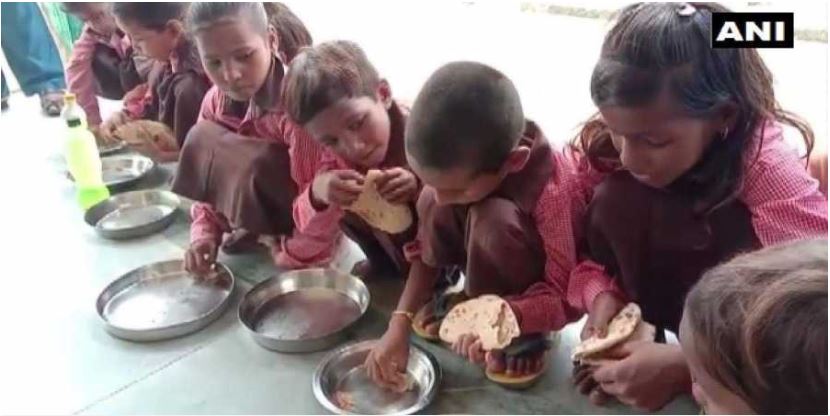 FIR filed against scribe who shot video of UP children having roti with salt
Days after a video showing students having salt with rotis as part of midday meal at a government school in Mirzapur district of Uttar Pradesh, went viral, the state government has filed a case against the journalist who shot the video along with two others on Saturday (August 31).
According to an NDTV report, the Block Education Officer of the area has accused Pawan Jaiswal, the journalist who works for a Hindi publication, of misinterpreting facts and conspiring to defame the Uttar Pradesh government.
The FIR also accused the village head's representative of cheating and criminal conspiracy. "The management of the mid-day meals was the village head's responsibility, and so once he knew, the representative's job was to inform the head and make vegetables available to the cook. Instead of calling the reporter, the village head must have looked into the issue," the FIR stated.
While talking to NDTV, Anurag Patel, the top government officer in Mirzapur, said, "The incident was true and I ordered for an inquiry and both have been suspended."
The Yogi Adityanath government in Uttar Pradesh was criticised for flouting midday meal guidelines that mandates to provide a nutritious meal to students, after the viral video showed students of the Mirzapur school having their midday meal of rotis with just salt.
However, the meal chart put up on the website of the Uttar Pradesh Mid-Day Meal Authority clearly mentions that the meals meant for children at state-run primary schools will consist of a mix of pulses, rice, rotis and vegetables as well as a fruits and milk on certain days.
Uttar Pradesh Chief Minister Yogi Adityanath has also ordered a probe in the matter.