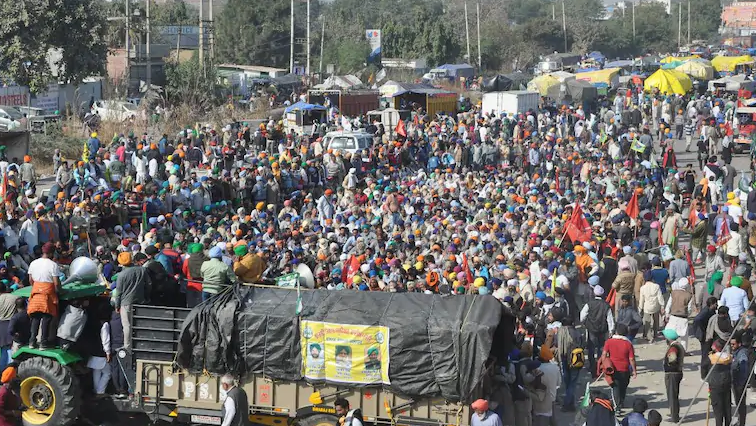 Farm laws our sole concern, say 32 unions amid row over human rights rally
Amid allegations of the ongoing farmers' protest at Delhi being 'infiltrated' by Maoists, 32 farmers' unions on Saturday (December 14) distanced themselves from the Bharatiya Kisan Union (Ekta Ugrahan) and passed a resolution, citing that their only concern is the repeal of the new farm laws.
The BKU (Ekta Ugrahan) on the occasion of Human Rights Day on December 10 had raised posters of jailed activists including Varavara Rao, Vernon Gonsalves and Sudha Bharadwaj, demanding their release.
The demands which were not related to the farm laws, had prompted ministers including Narendra Singh Tomar, Ravi Shankar Prasad and Piyush Goyal to allege that the farmers' agitation has been infiltrated by "Leftist and Maoist elements" whose sole aim is to upend the Centre's reforms.
Related news: Day 19: Farmers' hunger strike today, nationwide protests planned
"The function organised by BKU (Ekta Ugrahan) has no relation with the farmers' struggle. Their action has harmed the farmers' struggle," said the joint resolution by the 32 farmers' unions.
"Human rights is a big issue for us as well, but here this joint struggle is only against the laws formed by the Central government i.e the three farm laws, the Ordinance related to environment and the proposed Electricity Bill, 2020," the Indian Express quoted Buta Singh Burjgill, president of BKU (Dakaunda), who presided over the meeting of 32 farmers' unions on December 11, as saying.
Other farmer leaders protesting at the borders of Delhi agreed that at this point of time their priority is just the repeal of the three farm laws and nothing else.
"I believe the ongoing farm struggle has become a movement, and our focus should be only on farm laws, Electricity Bill and the Ordinance on environment. If one farmer union has organised a program, it is its individual and personal decision," Ruldu Singh Mansa, president of Punjab Kisan Union told IE.
He, however, clarified that the famers' union will back BKU (Ekta Ugrahan) if the government tries to target it over the Human Rights Day protest.
The BKU, in turn, has distanced itself from the one-day hunger strike called by the farmers' collective.
Related news: Tomar flays opposition, say some people just oppose, weaken country 
"We did nothing wrong. We had just organised an event demanding their (jailed activists) release on Human Rights Day on Thursday," Sukhdev Singh, the general secretary of BKU (Ekta Ugrahan) told PTI.