With 900 million eligible voters, the largest democratic process to elect the 17th Lok Sabha is underway in India. But the spread of misinformation on social platforms not only poses a serious challenge to the democratic system but also vitiates the poll atmosphere in the run up to the elections.
Though vigorous efforts are put in by fact-checking organisations like Factly, Boomlive and Alt News, along with tech giants like Facebook and Google to debunk misleading information, fake news thrives on social platforms.
For instance, false stories like Congress party leader Sonia Gandhi being richer than Britain's Queen Elizebeth II, Indian Journalists bribed to write against Prime Minister Narendra Modi, or a report claiming BBC declared Congress as the fourth most corrupt in the world, or a photo-shopped images of former Prime Minister Jawaharlal Nehru standing in the company of women (projecting him as a womaniser), though debunked as fake long ago, still make rounds on social sites.
By the time an information gets flagged as fake, it would have reached its target audience and done the damage.
The social platforms claim they reduce the visibility of such fake news by changing algorithms, though they cannot completely delete them. Global tech firms like Facebook, WhatsApp (A Facebook owned entity) and Twitter have come under fire for not being able to control misinformation on their platforms.
Factly and Alt-News co-founders say that they see an increased amount of fake news being spread after the commencement of elections.
"The flow of fake news certainly increases after the start of the poll process. Also any major even could be a trigger point for rise in fake news. We witnessed a spike in misinformation after Pulwama attack, start of elections in India and even after the recent blasts in Sri Lanka," Rakesh Dubbudu, founder of Factly, a data-journalism portal, said.
Dubbudu, who came up with a report earlier this year on 'countering misinformation in India' says, a substantial percentage of people were not aware of the existence of fact checking organisations, and young and old were more susceptible to fake news.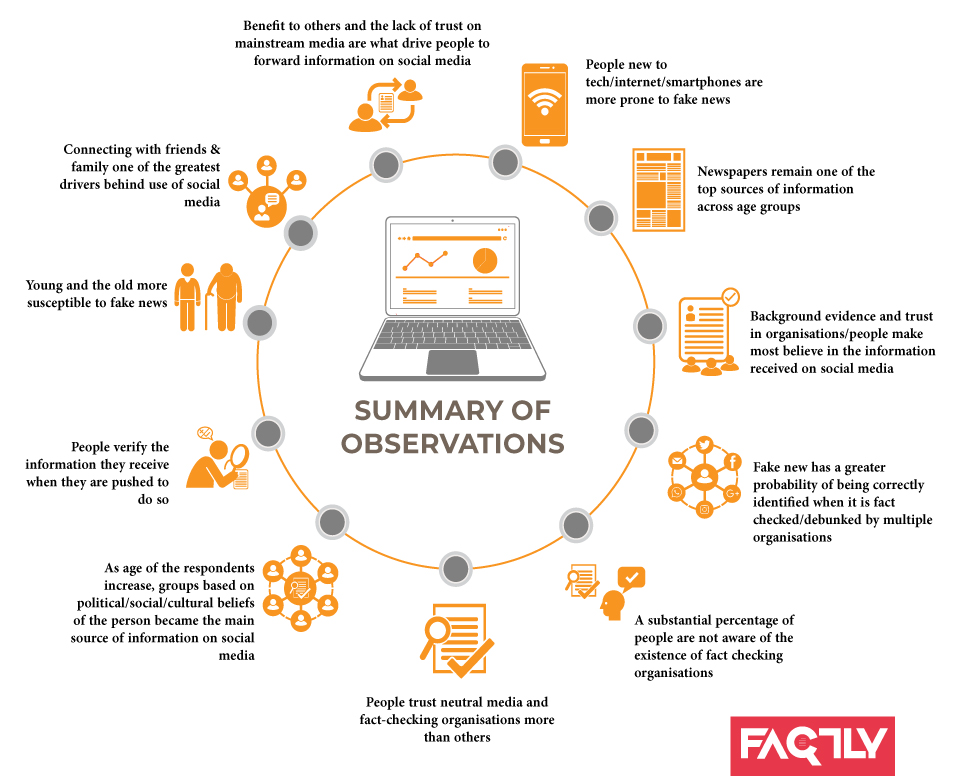 "Misinformation existed even before the social media age. So it is not about how much information is spread online, but about how social media companies reduce the velocity of that information spread," Pratik Sinha, Co-founder of Alt New, a fake news debunking platform said.
Sinha, with his 10-member team in Ahmedabad, constantly keeps checking online platforms with an aim to check the claims made by some of the fake news platforms.
"The companies know how to use the technology to act on identical videos, posts, Tweets. They have the know-how and resources. Yet they are not at it," Pratik adds.
Sinha feels we would tread on a slippery path if we were to criminalise such behaviours. But instead, he says all the stakeholders need to come up with a concerted effort.
 How governments respond
State governments are primarily responsible for detection, prevention and investigation of such content, and prosecution of the culprits in accordance with existing laws. However, be it the police or state, do not take proactive measure to contain the spread of fake news unless a formal complaint is registered.
According to an India spend report, between January 1, 2017, and July 5, 2018, mob violence sparked by rumours killed 33 people in 69 reported cases. Of this, about 77% of the cases attributed to fake news spread through social media.
Though the central government accepted that it is aware of the misuse of digital media for circulation of fake news, it does not maintain data of deaths in such cases. But it issued two advisories on addressing the issue of mob violence and lynching fuelled by circulation of fake news.
And the legal system does not completely tackle the spread of misinformation while it focuses on hate speeches and defamation. Section 79 of the Information Technology Act, 2000, imposes an obligation on intermediaries to remove any such content pursuant to notices by law enforcement agencies.
Recently, the Supreme Court refused to hear a Public Interest Litigation (PIL) filed by a lawyer who sought the court to direct the Indian government to frame rules to stop circulation and publication of fake news.
Prasanto K Roy, a technology policy consultant says there is minimal action by governments on fake news factories, especially given that the source of much fake news in India in 2019 is political.
"Police forces act only on a complaint. There is over reaction by the judiciary, as we saw in the case of the Tik Tok ban on a single PIL citing obscenity and morality," Roy said.
In another instance, the criminal investigation department (CID) of Karnataka police detained Mahesh Vikram Hegde, founder of fake news website "Postcard News," a day after the third-phase elections in Karnataka on April 23 and questioned him in connection with a fake letter attributed to Karnataka's home minister M B Patil on the Lingayat religious issue-one of the important poll planks in the State.
"Postcard" deleted the article days after publishing it last year. But the letter continued to do the rounds on social media platforms. The Bharaitya Janata Party's (BJP) state unit tweeted the fake letter on April 16, two days ahead of second-phase of polling. And a regional news daily published the letter without verifying the veracity of it.
Police had also arrested Hegde last year ahead of the state Assembly elections, in connection with a different fake post on Jain religion. In both instances, the website purportedly spread fake news to polarise votes to help the BJP, whose MPs supported Hegde and made #IstandWithMahesh #ReleaseMaheshHegde trend on Twitter.
A BBC research shows nationalism was the driving force behind fake news in India. The survey also showed that right-wing networks in India are much more organised than left-wing networks, thereby pushing nationalistic fake news further.

Social platforms' effort to combat misinformation
Facebook recently accused both national parties, the BJP and the Congress, of spreading false or misleading information. On April 1, The Federal reported how Facebook removed 687 pages or accounts linked to the Congress party, while it removed 200 odd pro-BJP pages for coordinated unauthentic behaviour. The pro-BJP pages had more followers and likes than the Congress.
A Microsoft Inc's global survey indicates that Indian internet users are more likely to encounter fake news online. About 64% of the Indians surveyed encountered fake news as against the global average of 57%.
Facebook says it partnered with third-party fact-checkers to debunk fake news in eight languages — English, Hindi, Bengali, Marathi, Telugu, Tamil, Malayalam and Gujarati.
"When fact-checkers find a story to be false, they'll write an article that reports on the facts at hand. We include these articles as 'related articles' immediately below a story in News Feed. We show the debunked articles lower in people's feed," Facebook said in a statement.
Meanwhile, Google partnered with Indian fact-checkers, including "First Draft", "Storyful", "AltNews", "BoomLive", "Factchecker.in" and "DataLeads", to train journalists to fight fake news. The company claims it trained over 5,000 journalists and journalism students since June 2018.
"We saw leading writers and journalist struggle to combat fake news. With internal expertise, we started a programme to train journalists and take the fact-checking process a step forward," Surabhi Malik, Program Director of the "Google News Initiative Training Network" said.
"Though we are far from reaching the desired ends, we've come a long way. More and more people and news outlets talk about fact checking as a process today and that shows the success of our programmes."
However, analysts feel there's still a long way to go and social media companies need to be quick and effective in controlling these fake posts.
"Social media companies need to work on different levels – identifying the source, framing  clear community guidelines and action that can be taken, supporting third party fake news buster initiatives, and letting users quickly validate an item online and more," Roy said.