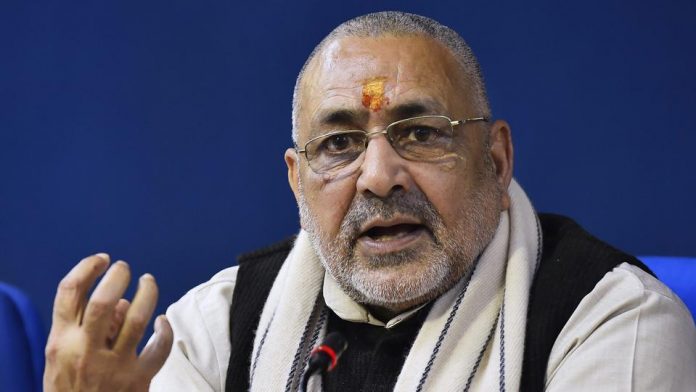 Union Minister and BJP leader Giriraj Singh urged scientists to conduct more research on cow dung, suggesting that this could make it financially viable for farmers to keep their cows even after they have stopped producing milk.
"Stray cattle is a major problem in Uttar Pradesh," Singh said at a workshop for vice chancellors and veterinary officers from 12 states here on Monday.
The minister was suggesting that if farmers can make money out of cow dung and urine they will not abandon their cattle. "There is immense scope of value addition to milk, dung and urine of the cow that would ultimately contribute to the economy of the country," the Union Minister for Fisheries, Animal Husbandry and Dairying said. He said if the input cost of agriculture decreases, villages and farmers would progress.
The BJP leader further said he followed the ideals of Mahatma Gandhi, Ram Manohar Lohia and Deendayal Upadhyaya. "Just like people keep in mind the teachings of Gita, Quran and Ramayana, I practise the ideals of Gandhi, Lohia, and Deendayal Upadhyaya," Singh said.
Earlier, the BJP leader has stoked a controversy over his statements like, children who study in missionary schools lack "sanskaar" and end up in practices like "beef-eating" when they go abroad.
The BJP leader also advocated, as an antidote, teaching of "shlokas" of Bhagvad Gita and the verses Hanuman Chalisa at private schools. "At private schools, students should be taught shlokas of Bhagvad Gita and Hanuman Chalisa," he stressed during a religious event.
Singh also addressed a press conference in support of the Citizenship Amendment Act (CAA) where he equated protests against the contentious legislation with Pakistan-sponsored "Ghazwa-e-Hind" (holy war against India) and lambasted opposition parties like the Congress and West Bengal Chief Ministers TMC for their strident criticism of the new law.
(With inputs from PTI)