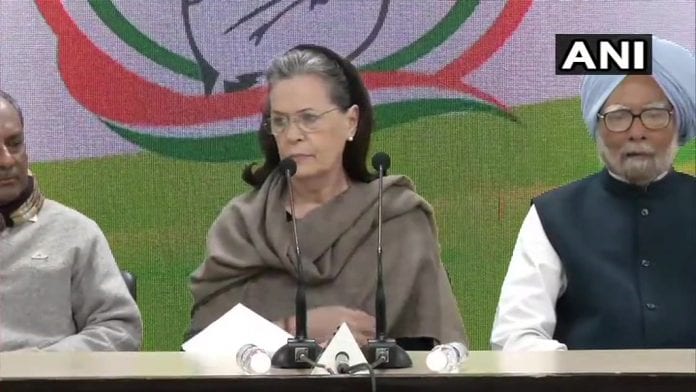 Holding the Center responsible for the communal violence in Delhi and blaming Home Minister Amit Shah's failure to contain it, Congress interim president Sonia Gandhi demanded Shah's resignation on Wednesday (February 26).
Following a meeting that was scheduled by the Congress Working Committee (CWC) at AICC headquarters and chaired by Sonia Gandhi, with former Prime Minister Dr Manmohan Singh, Priyanka Gandhi Vadra, P Chidambaram, Jyotiraditya Scindia and other party leaders, they decided to march to Rashtrapati Bhavan later today to raise the issue of violence and deteriorating situation in the national capital.
While addressing the media after reviewing the situation, the party held Delhi Chief Minister Arvind Kejriwal and his government responsible for not activating the administration to reach out to the people to maintain peace and harmony.
"It is the collective failure of both governments that have resulted in a great tragedy in the capital city," Sonia said.
"There is a conspiracy behind the violence, the country also saw this during Delhi elections. Many BJP leaders made inciting comments creating an atmosphere of fear and hatred," she added.
Related news: Delhi violence: SC rebukes police, refuses to entertain pleas on violence
Taking a dig at BJP's governance, she said, back when Atal Bihari Vajpayee was the PM, he would first call an all-party meeting in case of any extreme situations.
Pointing out that the Delhi police remained paralysed in the last 72 hours, she said, "18 people dead including a head constable and hundreds are in hospital, many with gunshot injuries. Violence continues unabated on the streets of North East Delhi."
MLA and Congress leader, Randeep Surjewala said, "Congress was to hold a march and give a memorandum to President today but he communicated that he is unavailable and has given us time tomorrow. Upholding the respect for his high office, we have deferred the march for tomorrow."
The Congress has called for a meeting of its Lok Sabha and Rajya Sabha MPs later today.
According to sources, Congress leader Rahul Gandhi did not attend the CWC meeting, as he is currently not in the country.
Earlier, the committee observed silence in memory of those who have lost their precious lives in the violence.
The death toll in northeast Delhi communal violence over the amended citizenship law (CAA) rose to 20 on Wednesday, according to GTB Hospital authorities. Confirming the same, Chief Minister Arvind Kejriwal tweeted the updated number of fatalities.
Meanwhile, the Delhi High Court that heard the issues related to the violence in the national capital, post-ponded the case to 23.