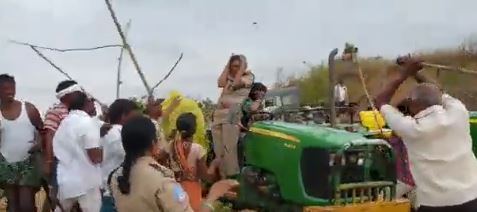 Daily wrap: Woman official assaulted in Telangana; England beat India
Woman forest official assaulted in Telangana, TRS MLA's brother held
A Telangana woman forest department official was injured Sunday when she was attacked by some people, allegedly led by the brother of a TRS MLA, at a village in Komaram Bheem Asifabad district over a land issue. Superintendent of Police Malla Reddy said Koneru Krishna, brother of TRS MLA Koneru Kannappa, has been arrested and booked under various sections of the IPC..
Zaira Wasim quits acting because of religion, draws respect, criticism
National Award-winning actor Zaira Wasim on Sunday announced her "disassociation" from the field of acting, saying she was not happy with the line of work as it interfered with her faith and religion. In a detailed post on her Facebook page, which she later shared across all social media platforms, the Kashmiri-born Dangal fame star said she realised "though I may fit here perfectly, I do not belong here".
Donald Trump steps into North Korea in historic first
Donald Trump stepped onto North Korean soil in a historic first Sunday as he met Pyongyang's leader Kim Jong Un in a moment of high diplomatic drama on the world's last Cold War frontier. Moments after becoming the only sitting US president to set foot inside North Korea, Trump brought Kim back over the dividing line for a meeting where they agreed to start working-level talks on Pyongyang's nuclear weapons.
One Nation One Ration card strikes at federal structure of India: Stalin
DMK president MK Stalin on Sunday slammed the Centre over the one nation one ration card policy and the proposal to have a single national level exam for recruiting judges and judicial officials across the country. Stalin said the Narendra Modi government's move "struck at the roots of the federal structure of the country".
Indian-origin Senator Kamala Harris racially targeted online
Kamala Harris, the first Indian-origin Senator and one of the top Democrats eyeing the White House in the 2020 presidential run, has been racially targeted online of her identity as "not an American Black", according to media reports. Harris, 54, who was born in the US to an Indian mother and a Jamaican father who were both immigrants, has directly confronted critics before who have questioned her black heritage.
Heed to these 3 things to conserve water: Modi in Mann Ki Baat
Expressing his concern over the acute water crisis ailing several parts of the country, Prime Minister Narendra Modi urged citizens to adopt a three-pronged formula to conserve every drop of water, during the first broadcast of his popular radio show 'Mann Ki Baat' after the return of his government to power, on Sunday. The Prime Minister urged people to start a public movement to save water, akin to that of the cleanliness movement, Swachch Bharat Abhiyan.
TN fishermen seriously injured after Sri Lankan naval personnel attack them
Four Tamil Nadu fishermen were seriously injured after they were attacked by Sri Lankan naval personnel while fishing in the island nations territorial waters, police said. They were part of a group of 1,200 fishermen, who had put out to sea in 150 boats from here on Saturday.
England beat India in World Cup, keep semi hopes alive
India lost to England by 31 runs in the World Cup after failing to chase a posing total of 337 on a flat pitch in Birmingham's Edgbaston as Jonny Bairstow's 111 outshone Rohit Sharma's 102 and Mohammed Shami's 5/69.