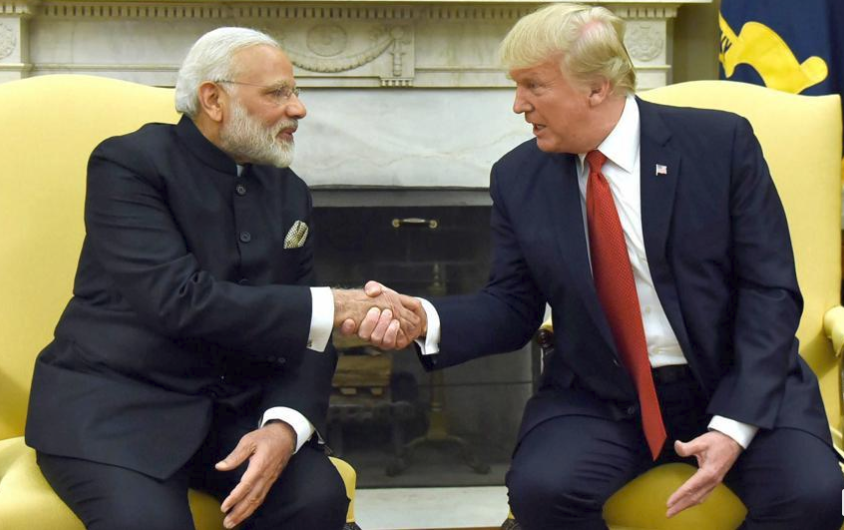 Trump terminates $5.6 bn trade concessions for India
US President Donald Trump has terminated India's designation as a beneficiary developing nation from June 5, ending the country's $5.6 billion trade concessions under the key GSP programme after determining that it has not assured the US that it will provide "equitable and reasonable access" to its markets. The Generalised System of Preference (GSP) is the largest and oldest US trade preference programme and is designed to promote economic development by allowing duty-free entry for thousands of products from designated beneficiary countries.
New education policy draft triggers anti-Hindi backlash on Twitter
Advertisement
The draft of National Educational Policy, which was submitted on May 31 (Friday) to the HRD ministry by a committee led by its chairman Dr. Kasturirangan, triggered a new wave of resistance against the alleged imposition of Hindi, on social media. The draft suggests several changes including the need for the implHere's ementation of a three-language formula in order to promote multilingual communicative abilities. It was submitted to Union Human Resource Development (HRD) Minister Ramesh Pokhriyal 'Nishank' and Minister of State Sanjay Shamrao Dhotre in New Delhi.
EC denies divergence in number of votes cast and polled
Disputing media reports that the votes counted in the Lok Sabha elections don't tally with the votes cast, the Election Commission of India (ECI) issued a clarification on Saturday saying the final votes polled tally is yet to be released. The EC said the voter turnout percentage figures on its website are only provisional and the final tally will be released soon. "It is incorrect inference to find ghost voters when there are none," the EC said in a statement.
GST collections in May at ₹1 lakh crore
GST collections touched ₹1 lakh crore in May, as compared to ₹94,016 crore in the year ago period, the government said Saturday. The gross collection in May at ₹1,00,289 crore is, however, lower than ₹1,13,865 crore collected in April. A total of 72.45 lakh GSTR-3B returns were filed in the month of May, higher than 72.13 lakh in April.
Rajnath holds high-level meet after taking charge as Defence Minister
Soon after taking charge as Defence Minister, Rajnath Singh on Saturday asked the chiefs of the Army, Navy and the Air Force to prepare separate presentations on the challenges and overall functioning of their respective forces. Singh held a held a meeting with Army chief General Bipin Rawat, Chief of Air Staff Air Chief Marshal B S Dhanoa and newly-appointed Navy chief Karambir Singh at the headquarters of the defence ministry at the Raisina Hills during which he was apprised about the security scenario, officials said.
Modi govt hikes allowance for widows, wards of armed forces personnel
In his first decision after assuming office, Prime Minister Narendra Modi on Friday (May 31) approved a hike in scholarship given to widows and wards of deceased or ex-service personnel of armed and paramilitary forces from the National Defence Fund and extended its ambit to include wards of state police officials martyred in terror or Maoist attacks. The amount of scholarship have been increased from Rs 2000 per month to Rs 2500 per month for boys and from Rs 2250 per month to Rs 3000 per month for girls, the Prime Minister's Office said in a statement.
Sonia Gandhi elected leader of Congress Parliamentary Party
Sonia Gandhi was once again elected leader of the Congress Parliamentary Party (CPP) at a meeting of party MPs at the Central Hall of Parliament on Saturday. The meeting was attended by the party's 52 newly elected Lok Sabha MPs and Rajya Sabha members. Gandhi, who represents Uttar Pradesh's Rae Bareli in Lok Sabha, is the chairperson of the Congress-led United Progressive Alliance (UPA). "Smt. Sonia Gandhi elected as the leader of Congress Parliamentary Party! She says, 'we thank the 12.13 Cr voters for reposing faith in the Congress Party'," Congress' chief spokesperson Randeep Surjewala tweeted.