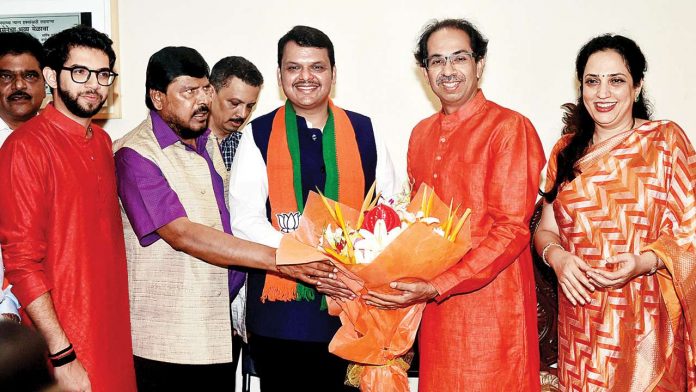 'BJP, Sena to fight Maharashtra Assembly polls in 135 seats each'
Saffron allies BJP and Shiv Sena will share equal number of seats in the upcoming Maharashtra Assembly elections, a senior BJP leader has said. Talking to reporters here on June 1 (Saturday), Revenue Minister Chandrakant Patil also said that Maharashtra Chief Minister Devendra Fadnavis was the "natural choice" of the people, the BJP and the Sena for the top post again. He said the two parties would contest 135 seats each in the 288-member House, and leave 18 seats for other allies.
Guests 'turned away' by Pak officials at Iftar party of Indian envoy
Advertisement
Indian diplomats and guests invited to an Iftar party hosted by the Indian High Commission in Islamabad were "aggressively" turned away by Pakistan officials on Saturday (June 1) evening, ANI quoted Indian High Commissioner to Pakistan Ajay Bisaria as saying. Expressing his disappointment over the matter Bisaria said, "We apologise to all our guests who were aggressively turned away from our Iftar yesterday. Such intimidatory tactics are deeply disappointing."
Water in 91 major reservoirs down to 20% of storage capacity: CWC
Water storage in reservoirs of most states in west and south India has dipped to less than the average of last 10 years, the Central Water Commission said, indicating a worsening water crisis in these parts of the country. According to the commission, the water level in 91 major reservoirs in the country in the week ending May 30 was one percentage point down compared to the week before. "The water storage available in 91 major reservoirs of the country for the week ending on May 30, 2019, was 31.65 billion cubic meters, which is 20 per cent of total storage capacity of these reservoirs. This percentage was at 21 per cent for the week ending on May 23, 2019," the Central Water Commission (CWC) said.
Centre directs 84 airports to install body scanners by March 2020
The Centre has directed 84 airports across the country to install body scanners by March 2020, replacing existing door frame metal detectors and hand-held scanners besides pat-down searches of passengers to detect metallic objects, according to an official document. "Walk-through metal detectors and hand-held metal detectors cannot detect non-metallic weapons and explosives. Body scanners detect both metallic and non-metallic items concealed on the body," states the circular sent by Bureau of Civil Aviation Security (BCAS) to all airports in April this year.
Tweet of Mumbai IAS officer calling for removal of Gandhi statues sparks row
A Mumbai woman IAS officer's tweet has triggered a row by calling the removal of Mahatma Gandhi's statues from across the world, including his images from the Indian currency notes. She deleted the controversial tweet after facing heavy backlash on social media. Demanding that institutions and roads named after the Father of the Nation be renamed, she also 'thanked' his assassin Nathuram Godse. After the controversy, the officer, Nidhi Choudhari, posted as deputy municipal commissioner in Brihanmumbai Municipal Corporation (BMC), said on Saturday (June 1) that the tweet was "sarcastic" and it was "misinterpreted".
Woman accuses Neymar of rape, player says he was set up
A Brazilian police document says an unidentified woman has accused soccer star Neymar of raping her in Paris last month. After the revelation, the player used Instagram to publish a 7-minute video that includes WhatsApp messages he says he exchanged with the accuser in a friendly way days later. Neymar calls the incident "a setup" and insists it is an attempt of extortion against him. The document obtained by The Associated Press on Saturday (June 1) says the incident took place May 15 at 8:20 pm in a hotel. The woman went to police on Friday (May 31) in Sao Paulo. Sao Paulo states Public Security Secretariat, which oversees police, confirmed in a statement that the complaint was registered, but did not offer details.
World Cup: Amla could be be fit for India clash
Veteran South Africa opener Hashim Amla, who was hit on his helmet grille in the World Cup opener, is expected to regain full fitness for the teams third game against India in Southampton on Wednesday (June 5). Amla missed the game against Bangladesh here on Sunday (June 2) after suffering the blow against England on Thursday. He missed a sharp bouncer from Jofra Archer that thudded into his helmet grille, forcing him to leave the field.