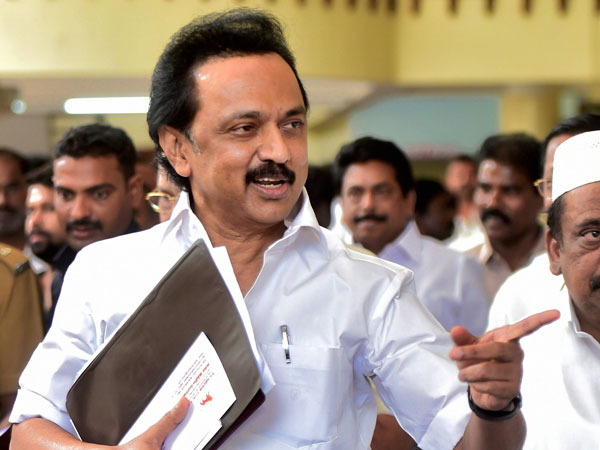 Stalin snubs KCR on Federal Front meet, lukewarm to non-Congress grouping
DMK leader MK Stalin is unlikely to meet Telangana Chief Minister K Chandrashekhar Rao who is on a mission-mode visit of various states to create a non-BJP, non-Congress front after the elections. The DMK leader may not give KCR an audience as he is reportedly busy with his campaign tour. Sources said KCR had initially planned to meet Stalin in Tamil Nadu on May 13. However, DMK ruled out any imminent meeting. The DMK has strongly backed its alliance partner, the Congress, in recent times. Stalin was one of the first non-Congress leaders to declare his support for Rahul as Prime Minister. A meeting with KCR at this point may be taken as a sign of wobbliness on the DMK's part as far as its relationship with Congress show.
CJI sexual harassment case: Ripples in TN
Advertisement
On a day when major cities saw protests against the clean chit given to Chief Justice of India Ranjan Gogoi, Tamil Nadu pitched in, too. On Tuesday, protests erupted across the country after a three-judge in-house committee gave a clean chit to the CJI on a sexual harassment complaint made by a former court employee. Even as Section 144 was imposed outside the Supreme Court, a group of peaceful protesters gathered outside the SC and began raising slogans against the CJI. Subsequently, there were also protests in other parts of Delhi. Meanwhile, the #metoo movement, which brought out a series of high-profile sexual harassment complaints, is now joining the protest. On Monday night, #metoo movement asked 'any groups arranging protests in Mumbai, Bengaluru, Chennai and other cities' to keep them posted.
Meanwhile, as many as 350 women's rights activists and civil society members on Tuesday (May 7) "rejected" the findings of the in-house Justice Bobde committee that has cleared Chief Justice of India Ranjan Gogoi of sexual harassment allegations.
In a press statement, the signatories described it as a "blatant abuse of power exercised by the highest constitutional authority, the Supreme Court of India".
Gurgaon girls top ISC exam in Delhi-NCR, bag second rank nationally
Gurgaon girls Srinwanti Debgupta and Shruti Jhamb have topped the ISC class 12 examination in Delhi-NCR with 99.75 per cent marks. Delhi-NCR schools achieved a pass percentage of 99.23 and 98.35 in the ISCE and ISC examination with girls outshining boys in both the classes. The toppers are from Sri Ram School, Aravali, Gurgaon and have got the second rank nationally. The second rank in Delhi-NCR has been shared by the same school's Rhea Prasad, Manav Chadha and Devashri Bhargava with 99 per cent marks.
Avengers: Endgame scribes talk about Fat Thor
Avengers: Endgame co-screenwriter Christopher Markus and Stephen McFeely have said there was no intention to promote fat shaming by showing Thor as an overweight superhero. In the film, which released worldwide on April 26, Thor, portrayed by Chris Hemsworth, is shown battling depression and alcoholism in the aftermath of supervillain Thanos finger snap that took place at the end of last years Infinity War. In the later parts, Thor is shown with a pot belly, a stark contrast from his generally ripped and muscular figure. The characters physical appearance has received mixed response from viewers, with some finding jokes on his body quite offensive, while others have appreciated that the film does not end up showing a once-again lean and fit Thor. Markus told Vulture during an interview that he and McFreely wanted to show the toll the events of the last film took on Thor and his weight gain was "just part and parcel of that state of mind".
Inter-caste marriage: Pregnant woman burnt to death by kin including father
A woman, two-months pregnant, died and her husband sustained severe burns at a village in Ahmednagar, Maharashtra, district after the couple were set ablaze on May 1 reportedly by the woman's family members, Indian Express reported on Tuesday. The attackers included the girl's father too and the family was reportedly against the couple's inter-caste marriage.
Afghanistan's struggle to get to the 2019 World Cup is a bloody one
A year ago, eight were killed and 45 injured in a series of explosions that targeted a cricket match in the Afghan city of Jalalabad. The blasts erupted among civilians as they watched the Ramadan Cup at a local cricket stadium. Prior to that, in September 2017, a suicide bombing at a cricket match in the capital city of Kabul left three dead and five injured. These are just two incidents of violence among several unreported ones that continue to disrupt life in the landlocked country even 18 years after the fall of the Taliban regime. The Taliban had banned sports because it considered it a distraction from religious activities. In fact, for several years, the Islamist group staged public executions at Kabul's Ghazi Stadium.
Daenerys had ordered herbal tea: HBO's response to GoT coffee cup goof-up
In a funny reaction to the coffee cup goof-up on the fourth episode of the final season of its fantasy series 'Game of Thrones', HBO said Daenerys Targaryen (played by Emilia Clarke) had ordered herbal tea, but was delivered a latte by mistake. GoT followers went crazy on social media after watching 'The Last of the Starks' after they spotted a misplaced takeaway cup placed on Daenerys's table in a scene when the heroes gather to celebrate their victory at the Battle of Winterfell. "The latte that appeared in the episode was a mistake. Daenerys had ordered an herbal tea," HBO stated in a press release issued to Variety.
Heat wave warning in Tamil Nadu, Andhra and Telangana
The Indian Meteorological Department (IMD) has issued a heat wave warning for isolated places in Tamil Nadu, Andhra Pradesh and Telangana. In Tamil Nadu, the heat wave is likely to persist till May 7, while isolated pockets of the neighbouring states may witness heat waves till May 10. "Heat wave conditions in some parts are very likely over Telangana and coastal Andhra Pradesh; in isolated pockets over interior Tamil Nadu, Puducherry, Vidarbha and West Rajasthan," the IMD said in a weather bulletin. A heat wave warning is issued usually when the maximum temperature of a station reaches at least 40 degree Celsius or more for palins and 37 degree Celsius or more for coastal regions.