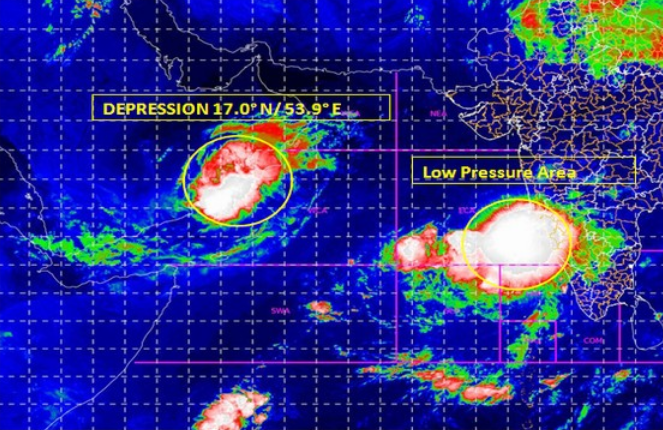 Days after super cyclone Aphan ravaged parts of coastal Bengal and Odisha earlier this month, India Meteorological Department (IMD) on Sunday (May 31) warned that a low-pressure area that is building on the western coast in the Arabian Sea today will develop into a "cyclonic storm" by Tuesday.
The IMD further stated that the "low pressure" which has formed over the Arabian Sea is likely to move towards north Maharashtra and Gujarat and will cause rainfall over these states.
A low-pressure area formed near southeast Arabian Sea & Lakshadweep today. We're expecting that it'll transform into depression tomorrow&into cyclonic storm day after. It'll move towards north&reach near Gujarat&north Maharashtra coast by evening of June 3: M Mohapatra, IMD Delhi pic.twitter.com/f7cgTAbhja

— ANI (@ANI) May 31, 2020
"A low-pressure area formed over South East and adjoining East Central Arabian Sea and Lakshadweep area. To concentrate into a Depression over East-central and adjoining Southeast Arabian Sea during next 24 hours and into a Cyclonic Storm during the subsequent 24 hours," IMD tweeted.
Amphan made landfall on the West Bengal-Bangladesh coast on the evening of May 20 affecting hundreds of lives and causing widespread destruction of properties in Odisha and West Bengal.
Earlier, the IMD announced that another western disturbance is expected to affect the weather in northwest India in the next three to four days keeping the heatwave in check.
Related news: Skymet wishes happy monsoon to Kerala; IMD differs on declaration
Kuldeep Srivastava, head of the India Meteorological Departments regional forecasting center, said the effect of the current western disturbance and easterly winds will reduce significantly by Sunday evening.
He said, the maximum temperature in Delhi-NCR is likely to increase by two to four degrees Celsius from June 1 to June 3, however it will remain under 40 degrees Celsius.
(With inputs from agencies.)