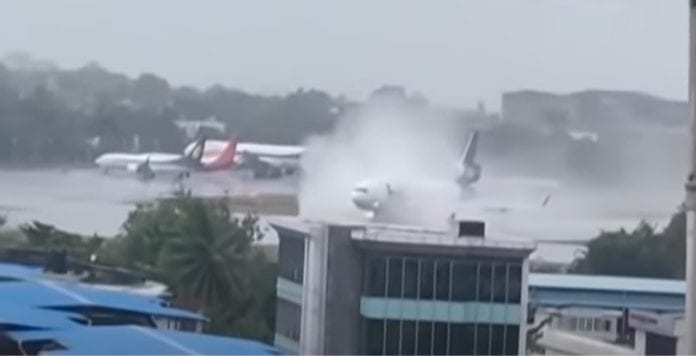 A FedEx cargo aircraft steered off the runway after landing in heavy rain at Mumbai's Chhatrapati Shivaji Maharaj International airport (CSMIA) due to high high wind speed as the cyclonic storm Nisarga made landfall in the Maharashtra coast today (June 3).
The aircraft came to a stop on a wet runway and under heavy rain while its landing gears displaced water with a massive force. The landing created jets of water to rise several metres above the ground level.
The MD-11 FedEx aircraft had come from Bengaluru. Usually, a runway excursion takes place when a plane leaves the runway in use, during take-off or landing.
Advertisement
RELATED NEWS: Cyclone Nisarga slows down, 1 death reported as rain lashes Maharashtra
The aircraft was then towed away from the runway and the incident did not disrupt other flights, reported NDTV. After discussions with the Airports Authority of India (AAI), CSMIA decided not to operate flights till 6 pm today (June 3).
The Mumbai Airport said in a statement that Chhatrapati Shivaji International airport witnessed a runway excursion with the FedEx flight 5033 arriving from Bengaluru. The excursion incident occurred when the MD11 aircraft landed on runway 14/32 of the airport.
The heavy rain and crosswinds as a result of Cyclone Nisarga could make landing and take-off difficult for pilots, as they need to align their large passenger jets with the runway appropriately. The MD-11 is a long range, wide-body airplane which has been in service since 1990. It was manufactured by McDonnell Douglas before the firm eventually merged with Boeing.
So far, Cyclone Nisarga has caused heavy rainfall in Maharashtra, uprooting electric poles and tress. According to reports, one person in Alibaug lost his life. The NDRF teams have been deployed at target areas and the rescue operations are going on.
Maharashtra: A team of National Disaster Response Force (NDRF) at work in Alibaug, Raigad district. #CycloneNisarga
(source: NDRF) pic.twitter.com/5KIHcrQfDT

— ANI (@ANI) June 3, 2020