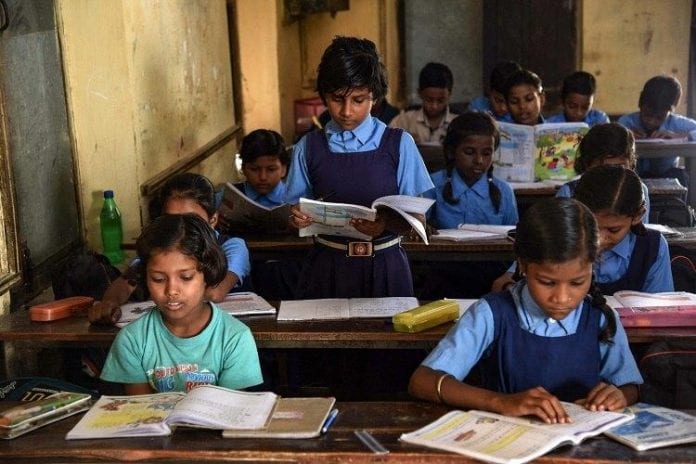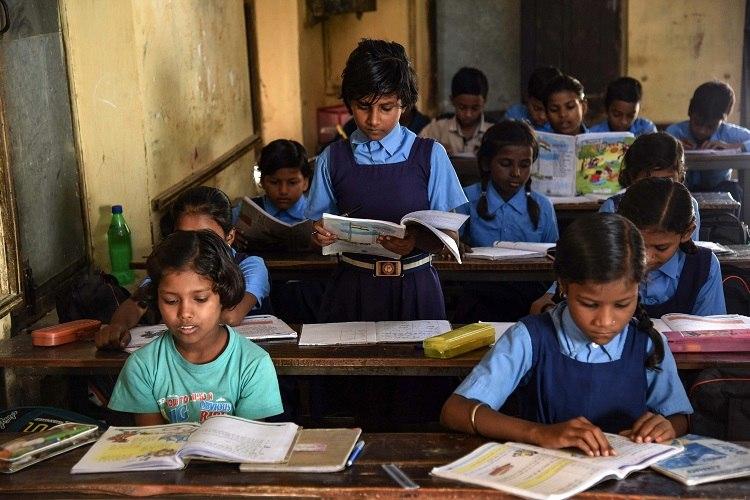 The COVID-19 pandemic has turned the tide in favour of government schools as more parents pinched by financial crisis shift kids from private to public schools across states in south India.
Karnataka, Kerala, Tamil Nadu, Andhra Pradesh and Telangana reported an increase in admission to government schools this year owing to various factors, including parents' inability to pay fees in private schools.
Besides, in some cases, parents shifted their children from small private schools that are yet to open, to state institutions that engage students at least for a few hours a day, government school teachers said. 
Advertisement
Related News: Over 62% of dropouts in education happens at school level

In Tamil Nadu, while some schools had to reject new admissions due to the limit on intakes, many students found the shift hassle-free because of the unique identification number maintained by the Tamil Nadu government.
Karnataka
The government higher primary school at Madhenadu village in Madikeri has remained shut for two academic years following the floods in 2018 in Kodagu district that damaged several houses and forced people to move to safer locations.
However, now with the government setting up shelter homes in the vicinity and with Covid crisis deepening the economic woes for parents, about 20 students have enrolled in the school whose teachers were transferred to other locations after it was declared a no-pupil institution.
"We now have 20 students and we have brought back two teachers to teach them. Parents in the vicinity had fled the town during the floods. Now, many are coming back," Gayathri TM, the block education officer in Madikeri, said. "Some parents who are facing financial difficulties and are unable to pay fees in private schools are also shifting their children to our schools," she said.
The state has over 77,000 schools with nearly 1.03 crore students. The department of primary and secondary education estimates that about 50,000 students have migrated from private to about 3,103 public schools.
Related News: No education for 80% students of govt schools during lockdown: Survey

Umesh Kolarkoppa, a government school teacher, attributed the shift to the lack of resources in private schools. He said the small and mid-sized schools in villages faced severe financial distress and, hence, were not paying teachers, who, in turn, were on the lookout for other jobs. "Hence, with no regular classes in private schools, parents are bringing their children to government schools, which ensure at least two hours of classes every day," he said.
The state education minister, S Suresh Kumar, attributed the trend to the success of the 'Vidyagama' scheme that aims to take schools to the doorsteps of children in villages in the absence of physical classes.
The Associated Managements of English-medium Schools, however, rejected the minister's claim and alleged that the government and its teachers were creating a false campaign to increase enrolments in government schools. "Government school teachers are making false claims that private schools will not reopen this year. They are going door-to-door and threatening parents that PDS and other benefits would be stopped if their kids are in private school. The false propaganda is leading to the migration of students to government schools," D Shashi Kumar, general secretary of the association, said. 
Tamil Nadu
Apprehending that admissions in government schools would increase after the lockdown relaxations, the Tamil Nadu school education department had set up seven groups of senior teachers to issue guidelines and to encourage parents to admit their wards in government schools.
Related News: HC tells Delhi schools to provide gadgets, internet packs to poor students for online studies

Based on the team's suggestion, the admission process that usually completes by June was extended indefinitely for students up to Class IX. As a result, admissions in government schools have increased. 
In Tamil Nadu, there are about 45,000 government and government-aided schools and 13,000 private schools with about 1.3 crore students.
Speaking to The Federal, an official with the school education department said that admissions in Madurai, Thoothukudi, Tirunelveli, Ramanathapuram, Sivaganga, Kancheepuram and Tiruvallur have crossed over 10,000, with Thoothukudi recording over 15,000 admissions in government schools for the academic year.
In certain schools in southern Tamil Nadu, officials said they could not accommodate students as they had already crossed their intake capacity. "A government school in Karaikudi in Sivaganga district had to deny admission to over 500 students as their intake capacity was only for 200," said Ilamaran, president of Tamil Nadu Teachers Association.
AP & Telangana
With private schools in Telangana taking advantage of the Covid situation and charging exorbitant fees in the name of online classes, the possibility of a large number of students migrating to government schools this year is not being ruled out.
"It is possible that nearly 20 per cent of the students are forced to leave private schools and opt for government schools," educational expert Ramakrishna Sangem said.
Related News: Small shops could lose 75% business due to junk food ban near schools

"While the actual numbers are still to come out, we can expect a massive migration to government schools once the educational institutions reopen fully," Sangem said.
There are about 12,000 government-recognised private schools in the state employing about 1.50 lakh teachers. "Many schools have imposed huge salary cuts since April, while some are not paying salaries at all," the Telangana Private Teachers Forum president Sheik Shabbir Ali said. Left with no option, some private teachers were forced to take up agricultural works in villages.
The members of Telangana Recognised Schools Managements Association (TRSMA), which represents managements of nearly 10,000 budget schools, said that they would not be able to reopen schools unless the government provides financial help.
"It is not feasible for us to run schools only for a few students. Maintenance of schools is not possible without collecting full fee from the students. At present, a majority of the parents have not paid the fees," said Y Shekhar Rao, the president of TRSMA.
The private schools are also unsure about  implementing the social distancing norms among students once the schools reopen fully. According to the state general secretary of TRSMA S Madhusudan, there is no plan on how the schools will ensure social distancing among students.
Related News: Schools start reopening after 6 months as Unlock 4 kicks in

According to him, the admission rate in private schools, particularly in the budget ones, has drastically dropped due to the coronavirus pandemic. "Only 60 per cent of parents paid the fees. We are worried that if this continues, the dropout rate in budget private schools may increase," the TRSMA office-bearer said.
(With inputs from Prabakar Tamilarasu, Suresh Dharur and Prabhu Mallikarjunan)