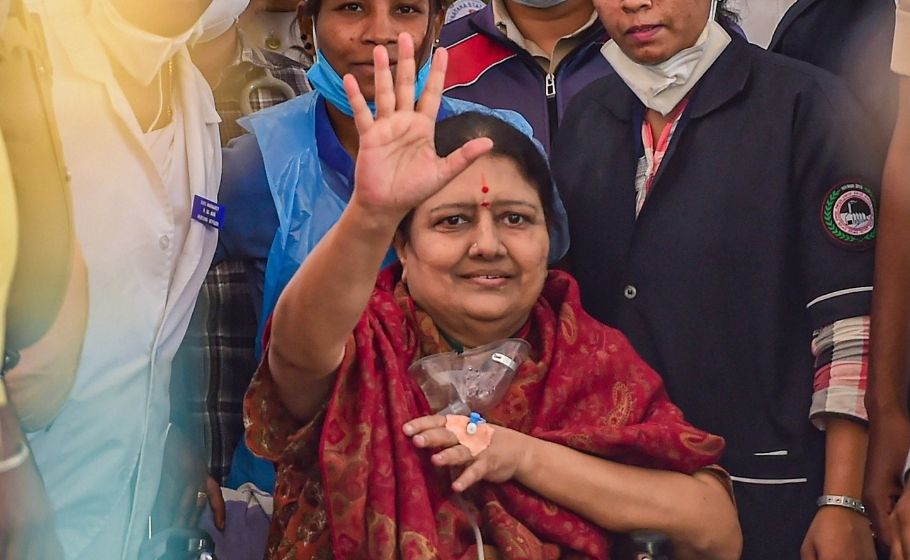 Former Tamil Nadu chief minister J Jayalalithaa's close aide VK Sasikala has filed a fresh application in a Chennai court against Chief Minister Edappadi Palaniswami and his Deputy O Panneerselvam in an attempt to stake her claim for the AIADMK's top post.
Sasikala, 66, was released from jail in January, months ahead of the Assembly polls. She had moved court in 2017 against the party's general council meeting called by EPS and OPS to remove her from the post of general secretary.
Her fresh application seeks higher damages and an urgent hearing of her petition. The case will come up for hearing on March 15.
Advertisement
Also read: Sasikala uses AIADMK flag, to 'return to politics'; party expels 7 for her reception
The sacked party leader who returned to Chennai after serving a four-year jail term is said to be preparing a long-term plan to emerge as the 'rajamaatha' of the ruling AIADMK.
Her strategy is to emerge as a force of unity by bringing about a rapprochement not only between her supporters and the CM but also with other sections of the party embroiled in local conflicts.
Apparently backed by BJP, she now presents a tough choice for the CM: collusion or collision. Her objective is to go back to the 2017 role when she got the party MLAs huddled in a resort in a bid to deny Panneerselvam in power, while at the same time, ensure continuance of the AIADMK government after Jayalalithaa's death.
Also read: As Sasikala returns, OPS makes his move, dons the 'loyal 'Bharata role
Sasikala was just short of taking over as CM when she was sentenced to a four-year jail term for corruption. Before leaving for jail, she picked EPS to take over as CM, but in her absence, he patched up with OPS who had rebelled against Sasikala's leadership. Both had her removed from the post and the party.