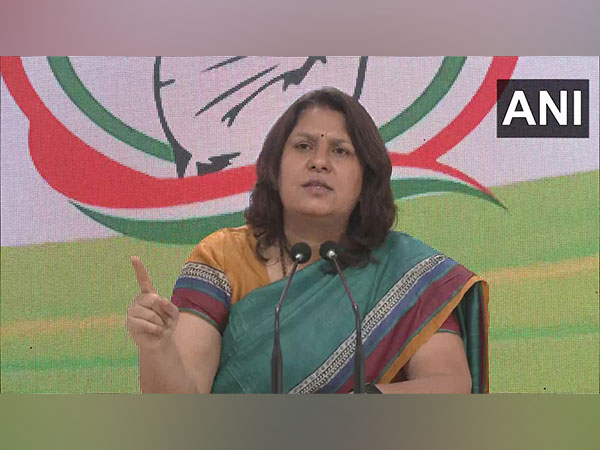 India's debt under Modi govt has risen to ₹155 lakh crore, claims Congress
The Congress party claimed on Saturday (June 10) that India's debt has nearly "tripled" to ₹155 lakh crore during Prime Minister Narendra Modi's nine-year tenure and called for a comprehensive report (White Paper) detailing the current state of the economy.
Congress spokesperson Supriya Shrinate alleged the Modi government's "economic mismanagement" is responsible for the present state of the economy and claimed that Rs 100 lakh crore of debt has been added since the present dispensation assumed charge in 2014.
"As chief minister of Gujarat, Mr Modi used to blame those on the other side of the political spectrum as inefficient, incompetent and corrupt — adjectives that today suit him and his government more than anyone else.
"After ruining India's economic growth story, creating huge unemployment, raging inflation, Mr Modi has done the unthinkable, which is an addition of over ₹100 lakh crore to India's debt, which is at an alarming level," she said at a press conference.
Also Read: Telangana: KCR blasts BJP and Congress over Singareni Collieries
The Congress leader also said India's debt in 2014 was at ₹55 lakh crore, which has now gone past ₹155 lakh crore.
She claimed that India's debt under 14 prime ministers in 67 years was ₹55 lakh crore while Modi alone has increased it by over ₹100 lakh crore.
"Economic management is not the same thing as headline management. It cannot be done through teleprompters and definitely not through WhatsApp forwards. We demand a white paper on the Indian economy because the fault lines are only getting deeper," she said.
Shrinate also claimed that the bottom 50 per cent of Indians who own three per cent of the country's wealth paid 64 per cent of the GST collected. The richest 10 per cent, on the other hand, own 80 per cent of the country's wealth but pay only three per cent of the GST collected.
India has the costliest LPG cylinder, the third costliest petrol and the eighth costliest diesel in the world, Shrinate claimed.
Also Read: How Congress is using Ramayan to counter BJP's Hindutva narrative in Chhattisgarh
The Congress leader said a debt of Rs 155 lakh crore means every Indian is reeling under a burden of ₹1.20 lakh.
"The Modi government in its tenure has bought debt of ₹4 lakh rupees every second," she claimed.
She also added that the government has to pay an annual interest of ₹11 lakh crore on this debt.
India's debt-to-GDP ratio has risen to 84 per cent, the Congress spokesperson claimed, and said it is alarming when compared to other developing and emerging market economies where the average debt-to-GDP ratio is at 64.5 per cent.
"India is bearing an annual cost of Rs 11 lakh crore to service this mounting debt. Questions are now being raised on India's debt servicing capacity. According to the CAG report, government debt was 52.5 per cent of GDP in 2019-20 and the debt sustainability had turned negative that year. With debt at 84 per cent of the GDP, debt sustainability is suspect," she asserted.
Also Read: Congress slams BJP for criticism of Rahul's remark on IUML
"But, the big question is who are the beneficiaries of this rising debt because quite clearly it is not the poor, not the middle class and not the MSMEs. Twenty-three crore people have been pushed below the poverty line, 83 per cent Indians have seen their incomes dip, over 11,000 MSMEs have shut down in a single year but the number of billionaires in India have gone up from 102 in 2020 to 166 over two years.
"But are all these rich beneficiaries of high debt playing their part in India's growth or paying higher taxes?" she asked and said the government should turn its focus to the other important issue of tax collection.
Price rise and unemployment, besides income disparity, have emerged as major issues, she said.
"The bottom 50 per cent of India's population that owns just three per cent of the country's total wealth is paying 64 per cent of the GST collected. In contrast, the top 10 per cent richest Indians, who own 80 per cent of the country's wealth, pay merely 3-4 per cent of the GST collected," she claimed.
"The government is clearly in denial because it is certain that an indirect tax like the GST or excise duty on fuel has hurt the poor the most. India's consumption has been consistently weak. The recently released GDP figures that the government touted as a great achievement has a very big red flag — India's consumption-to-GDP ratio has fallen from 61.1 per cent in FY 2022 to 60.6 per cent in FY 2023," she said.
(With agency inputs)