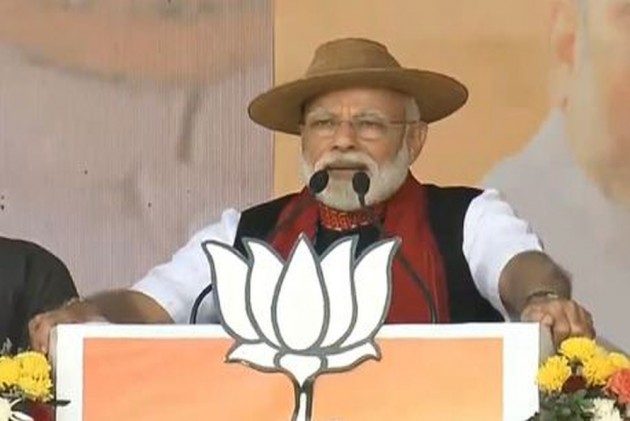 Karuna Gopal, an advisor to India's ambitious 100 Smart Cities Mission, on Saturday announced that she would sue Time magazine for "maligning" Prime Minister Narendra Modi.
"Friends, I am initiating legal action against Time magazine. How can this treacherous publication malign the serving Prime Minister of India?" tweeted Gopal, who claims to be a part of the sub-committee that worked on BJP's national manifesto.
The article "India's Divider in Chief" is written by Aatish Taseer, son of Indian journalist Tavleen Singh and late Pakistani politician and businessman Salmaan Taseer. It also said the opposition Congress party has little to offer other than the dynastic principle. The article "Modi the Reformer" is authored by Ian Bremmer, president and founder of Eurasia Group, a global political risk research and consulting firm. The cover depicts a portrait of 68-year-old Modi. The articles inside the magazine have the titles "Can the World's Largest Democracy Endure Another Five Years of a Modi Government?", written by Taseer and "Modi Is India's Best Hope for Economic Reform", by Bremmer.
Advertisement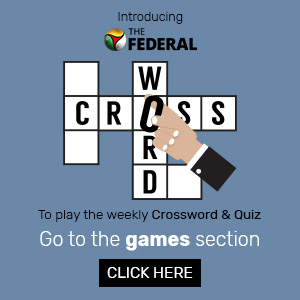 While the extensive coverage has become a major talking point in India — which is in the midst of a highly polarised general elections — pro-BJP social media users have unleashed a vitriolic campaign on social media against Time. Right-leaning Indian publications too have joined the chorus.
Friends I am initiating legal action against TIME Magazine !How can this treacherous publication MALIGN the serving Prime Minister of India ?How can it VICIOUSLY interfere in our electoral process ?Join me in this fight ! Use #SueTIMEmagazine @narendramodi @rammadhavbjp @bjp4 pic.twitter.com/5qelKYYu94

— Chowkidar Karuna Gopal (@KarunaGopal1) May 11, 2019
Yes sue this magazine we stand by you…Such Pakistani they need to learn a lesson so that before uttering a single word against our PM they think thousands of times… #SueTIMEmagazine

— CHOWKIDAR RASHIKA MEHROTRA🇮🇳 (@rashika2592) May 11, 2019
Yes. With you
But do not get perturbed as they are all on anticipated lines trying to hit any one who tries to make his Country Strong.
Such Acts are part of Well Coordinated International Terrorism based on Guerrilla Warfare.
We need to prepare to Fight that.. @Doval_Ajit12

— Chowkidar Sushil Soni (@aircmdesoni) May 11, 2019
"Another step forward for the global liberal complex in stigmatising Hindus as the "other" who are out to get everyone…We Hindus have our eyes closed while we are being viciously defamed across the world," said OpIndia in an article critiquing the TIME cover story.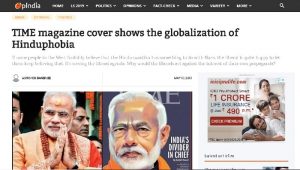 The BJP, meanwhile, has slammed the US magazine and accused Taseer of pursuing Pakistan's agenda. BJP spokesperson Sambit Patra told a press conference that article's author was a Pakistani and that nothing better can be expected from Pakistan. He also took a swipe at Congress president Rahul Gandhi for retweeting the story.
In another development, Taseer's Wikipedia page was 'vandalised' on May 10, the day after his article was published. According to fact-checker Alt News, Taseer's Wikipedia page was edited repeatedly on May 10. The first edit was made at 7:59am, when the phrase about Taseer being "the PR manger for the Congress" was added to the "Career" section of the page. "Around 8:30pm, the page was restored to normal," wrote Arjun Sidharth of Alt News.
This is the difference when @TIME is paid by @INCIndia and @sampitroda and when it is not paid
This is the truth #JitegaModiJitegaBharat #Timesmagazine pic.twitter.com/2XOA35ky2d

— Keshav Dwivedi (@KeshavD44424868) May 11, 2019
You should be ashamed of yourself @TIME magazine for running a one-sided hit job on PM @NarendraModi. If Mr. Modi is a 'divider' pray tell me o wise men of the west, who is India's unifier? Mamta Bannerji? The Elephant Lady? CPIM? Omar Abdullah? Priyanka Vadra? https://t.co/m1NFasVxvl

— Tarek Fatah (@TarekFatah) May 11, 2019

The Time magazine, however, had placed Narendra Modi on its cover in 2015 too, with the title "Why Modi Matters". It had also carried an interview with the prime minister.