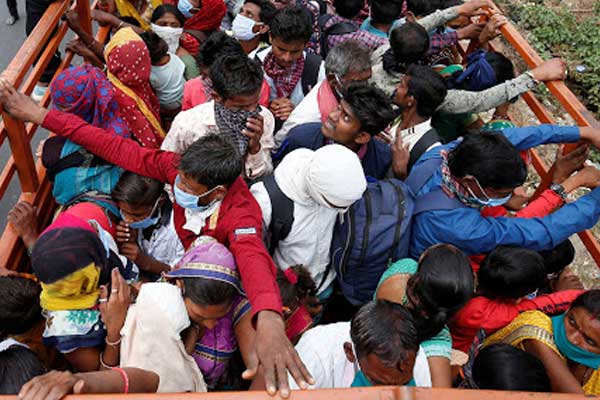 The Centre on Sunday (April 19) issued guidelines for migrant labourers, allowing their movement within the state as certain manufacturing and industrial units will start functioning from Monday.
The guidelines by the Home Ministry include providing bus services to the labourers ensuring social distancing and proper sanitisation after each use.
Local authorities have also been asked to make arrangement of food for the labourers.
However, the guidelines also make clear that no inter-state movement would be allowed until May 3.
Advertisement
"In the event that a group of migrants wish to return to their places of work within the state where they are presently located, they would be screened and those who are asymptomatic would be transported to their respective places of work…During the journey by bus, it would be ensured that safe social distancing norms are followed and the buses used for transport are sanitised as per the guidelines of the Health authorities," the MHA guidelines said.
Related news: Govt asks states to stop exodus of migrant labourers amid COVID lockdown
MHA also ordered the registration of the labourers with the concerned local authority so that skill mapping could be done to ascertain their suitability for different kinds of works.
"It may be noted that there shall be no movement of labour outside the State/UT from where they are currently located….The National Directives for COVlD-19 Management issued under the consolidated revised guidelines dated April 15 shall be strictly followed," the MHA SOP said, as reported by Indian Express.
Since the announcement of the lockdown by government, migrant labourers who wanted to go back home, have been kept in various shelter camps by state governments.
In absence of work and money, the MHA acknowledging the need to allow labourers movement said, "Since additional activities, outside the containment zones, have been permitted in the consolidated revised guidelines with effect from April 20, these workers could be engaged in industrial, manufacturing, construction, farming and MNREGA works."
Prime Minister Narendra Modi had earlier announced that select industries will be allowed to function from April 20 in identified areas.