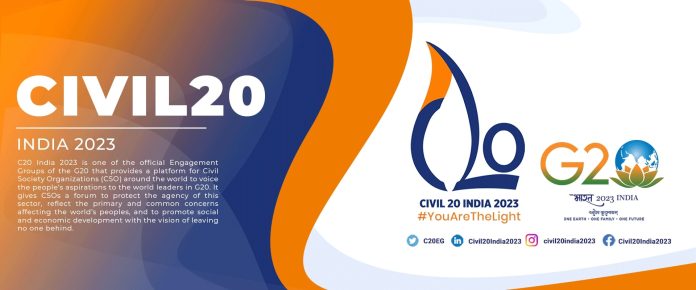 Scheduled to take place from March 20 to 23 in Nagpur, Maharashtra, the C20 Inception Conference will witness the participation of over 200 foreign delegates representing various civic groups and NGOs.
Making the announcement on Friday, Vinay Sahasrabuddhe, vice chairperson of Rambhau Mhalgi Probodhini and patron of CIVIL20 India secretariat, said the objective of the event would be to present the perspective of civil society, non-government organisations and the development sector in G20 nations.
Also Read: India tries to calm tensions as Ukraine splits G20
Spiritual leader Mata Amritanandmayi is the C20 India chair and the Rambhau Mhalgi Prabodhini has taken responsibility of the secretariat, and the event, which will be held in the Press Club here, will be among the several that are being organised nationwide.
"The inception conference will discuss the work done by Civil20 in the last few months. A total of 14 themes have been selected, which will be discussed in different sessions. The final meeting of Civil 20 will take place in the last week of July, after which a policy pack will be released and given to the G20," he explained.
Also Read: No joint statement at G20 foreign ministers meet due to divergences on Ukraine war: Jaishankar
The themes include education, health, technology, environment, arts and crafts, democracy, human rights and sustainable development, he said.
The speakers will include Nobel Laureate Kailash Satyarthi, G20 Sherpa Amitabh Kant, United Nations Resident Coordinator in India Shombi Sharp, Indonesian C20 Sherpa Ah Maftuchan, Brazil's Alessandro Nilo, Argentina's Guillermina Alaniz and Maharashtra Deputy Chief Minister Devendra Fadnavis.
(With agency inputs)