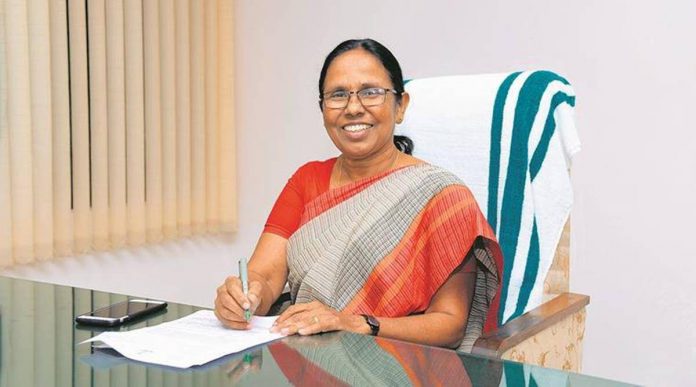 Kerala's Minister of Health and Social Welfare Minister KK Shailaja has been named by a British magazine as the "top world thinker" among 50 such public figures across the globe identified by it.
The 'Prospect' voters ranked Shailaja even ahead of New Zealand Prime Minister Jacinda Ardern in containing the spread of COVID-19.
About the selection procedure, the magazine said: "It was an all-new list for the COVID-19 age, since the mood called for thinking of a different sort – less chin-stroking, more hands on. Then 20,000-odd votes were cast and counted in a public ballot. The results represent a landslide win for the practical minds party," the Prospect said.
Shailaja represents Kuthuparamba constituency in Kerala and belongs to Kannur district. A CPI-M member, she is fondly called 'Shailaja Teacher' due to her previous occupation.
The magazine richly praised the Minister for her deft handling of the deadly Nipah disease in 2018, which led to commemorating her role in the Malayalam movie 'Virus.'
"When Covid-19 was still 'a China story' in January, she not only accurately foresaw its inevitable arrival, but also fully grasped the implications," said the magazine.
"She rapidly got the WHO's full "test, trace and isolate" drill implemented in the state, and bought crucial time by getting a grip of the airports, and containing the first cases to arrive on Chinese flights," the prospect said.
Related news: Kerala Cong chief calls Shailaja a 'Covid Rani' good at PR; sparks outrage
Shailaja organized rigorous surveillance and quarantine, at times in makeshift structures. The minister makes it a point to maintain social distancing in all official meetings, which can go on until 10pm and restricts herself to a Zoom-only relationship with her grandchildren, the magazine noted.
It said Covid cases and deaths were kept remarkably low, although after a slide, they began to grow fast – "just as Shailaja had warned." "Hopefully Shailaja's masterclass in public administration will boost the odds in the next and more difficult phase, it added.
The magazine voters gave the second spot to to Jacinda Ardern, New Zealand's Prime Minister. The magazine said "her governing 'ethos of kindness' was drawing interest as a refreshing (if hazy) alternative to neo-liberalism even before it showed practical results in keeping a lid on the crisis".
The magazine kept the third slot for Bangladeshi architect Marina Tabassum, for applying her mind to designing houses on stilts to keep families safe from rising waters.