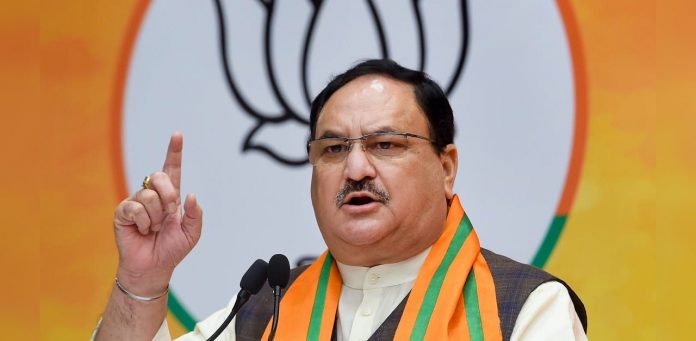 Fresh after a resounding victory in Bihar, BJP national president JP Nadda on Friday made important changes to the party's line-up of those in-charge of states across the country with focus on Assembly elections due in a year or less.
West Bengal, where BJP faces a tough opposition in Mamata Bannerjee's TMC, will have information technology cell chief Amit Malviya assisting Kailash Vijayvargiya.
Bhupendra Yadav will handle Bihar as well as Gujarat.
Also read: AIADMK upset as BJP uses iconic MGR alongside PM in campaign video
Murlidhar Rao, believed to be close to Home Minister Amit Shah, is the new in-charge of Madhya Pradesh where BJP secured a majority after the by-elections necessitated by Jyotiraditya Scindia's defection from the Congress to the saffron brigade in March.
BJP spokesperson Sambit Patra is in-charge of Manipur, which was earlier the responsibility of Ram Madhav, who also handled Jammu and Kashmir. Madhav is no longer in-charge of any state. Tarun Chugh, earlier co-in-charge for Delhi, will be in-charge for Jammu and Kashmir, Ladakh and Telangana.
Baijayant Jay Panda will look after Assam, which will go to polls next year.
Besides, Satya Kumar, Sunil Ojha and Sanjeev Chaurasia will assist Uttar Pradesh in-charge Radha Mohan Singh, who also looks after Rajasthan.
Also read: Have left the final call to BJP: Nitish on chief ministership, Chirag
BJP general secretary CT Ravi will be in-charge of Maharashtra, Goa, Tamil Nadu.
D Purandeshwari will be in-charge of Odisha and Chhattisgarh. BJP general secretary Dushyant Gautam will look after Punjab, Chandigarh and Uttarakhand. Dilip Sakia will take care of Jharkhand and Arunachal Pradesh, a statement issued by the BJP said.
Union Minister V Muralidharan is in-charge of Andhra Pradesh along with Sunil Deodhar as co-in-charge.
Former party MP C P Radhakrishnan will be in charge of Kerala, which also goes to election next year.
Vinod Sonkar, former head of the BJP's SC Morcha, is in-charge of Tripura and Sukanta Majumdar will look after Sikkim.
Nalin Kohli has been assigned Nagaland, while M Chuba Ao will be in charge of Meghalaya, Mhonlumo Kikon in Mizoram. Nirmal Kumar Surana will handle Puducherry, A P Abdullakutty, the new party vice-president from Kerala, has been given Lakshadweep.
Himachal Pradesh will be under Avinash Rai Khanna, Andaman and Nicobar Islands under Satya Kumar and Haryana under Vinod Tawde. Former Mahila Morcha chief Vijaya Rahatkar has been made in charge of UTs Daman, Diu, Dadra & Nagar Haveli.
Bhupender Yadav is general secretary in charge of Kisan Morcha, Gautam for Mahila Morcha, Arun Singh for OBC Morcha, Tarun Chugh for Yuva Morcha.