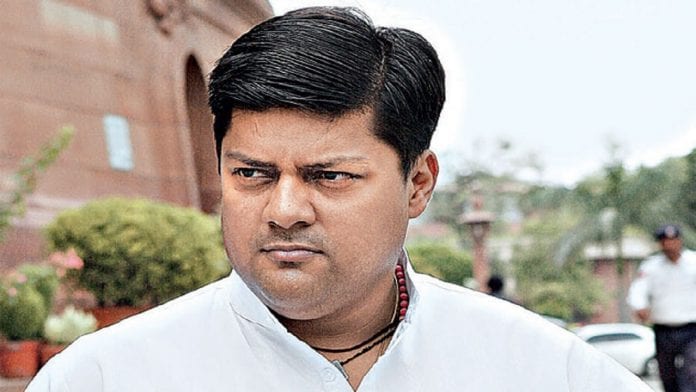 Did BJP MP Dushyant Singh carry COVID-19 to the doorstep of the first citizen of India, President Ramnath Kovind?
That is the puzzling question rankling the top political and official circles of the country after it was found that the MP attended a party along with his mother, Vasundara Raje Scindia, where singer Kanika Kapoor was present.
Due to their interaction with Dushyant subsequently, Anupriya Patel of Apna Dal, Derek O'Brien of the Trinamool Congress and a number of other political leaders have gone into self-quarantine. This includes Deepinder Hooda and Jiten Prasada of the Congress.
However, the biggest worry is about President Ramnath Kovind who has been hosting MPs in batches and Dushyant Singh was also present in one of the get-togethers along with Rajasthan MPs.
Therefore, the President might now undergo a precautionary COVID-19 test and go into quarantine if necessary.
Defence Minister Rajnath Singh was also present when Dushyant Singh met President Kovind at Rashtrapati Bhavan along with other MPs.
The chain of Kanika Kapoor-Dushyant Singh events has sent political circles into a tizzy as the BJP MP has been to a number of get-togethers subsequently.
Dushyant is under self-quarantine and is likely to remain so till he tests negative for possible coronavirus infection.
Related news | 'Baby Doll' singer Kanika Kapoor tests positive for coronavirus
It is amazing how an MP mingled so much when social distancing is the norm worldwide to stop coronavirus from spreading further. Prime Minister Narendra Modi has advocated social-distancing and called for 'Janata curfew' on Sunday.
The episode has also renewed calls for ending the Budget Session of Parliament ahead of schedule.
Congress MP Anand Sharma had questioned the continuation of the session, pointing to the need for social distancing for senior citizens – citing himself and Rajya Sabha chairman Venkiah Naidu as examples. However, the government has not warmed up to the idea till now.