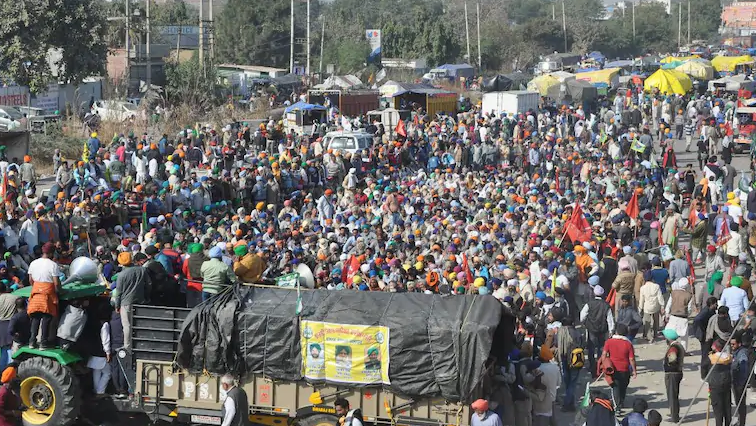 In the face of unrelenting farmers' protests threatening to throw the Centre on the ropes and Supreme Court deciding to form a panel to facilitate talks between the two sides on farm laws, the BJP is readying for a long haul — it has launched a drive across states on the benefits of the new laws.
The party has written to all state units, asking them to hold farmer conferences and awareness programmes about the new laws. Under the plan, BJP leaders will address press conferences in 718 districts across the country and party's 'karyakartas' would hold kisan sammelans/chaupals at 100 locations in states.
In UP, the party went on the offensive earlier this week to clear "misunderstandings" on the new laws. Party's state in-charge, Radha Mohan Singh, along with state party state chief Swatantra Dev Singh and ministers of the Yogi Adityanath government will take part in these kiasan sammelans.
Also read: Farmers irked as govt moves to recover 'wrong' payouts in PM Kisan scheme
In Bihar, the BJP has launched a 13-day outreach campaign to dispel farmers' concerns. On December 13, Union Minister for Law Ravi Shankar Prasad and state party chief Sanjay Jaiswal held a meeting in Patna and stressed that the new laws would end the middlemen system in the sale of agricultural produce.
Prasad said that Bihar had done away with the agricultural marketing boards in 2006, and was witness to a transformation in the farm sector where farmers were getting better income as they were free to sell their produce anywhere in the state.
"I want to clarify that farmers would not have to mortgage their land or sell their land. Under the laws, if a company enters into a contract with any farmers to buy a certain product, the company would provide the farmers better agricultural techniques and seeds. What is wrong in it?" he asked.
Also read: Punjab farmers' smile belies deeper angst of debt, poor prices
The BJP is also using social media memes to highlight the positive aspects of the new laws which would enable farmers to sell their produce at MSP within the mandi-system as well as outside the mandis.
Prime Minister Modi has already made yet another appeal to farmers to consider the new laws in a fresh light. He has also tweeted a YouTube link asking the farmers to hear out Agriculture Minister Narendra Singh Tomar and Piyush Goyal. The link has the pressers of both the leaders explaining how crucial the new laws are for the benefits of farmers. In these press interactions, the government has said that a proposal was sent to farmers, and that more talks should be organized.