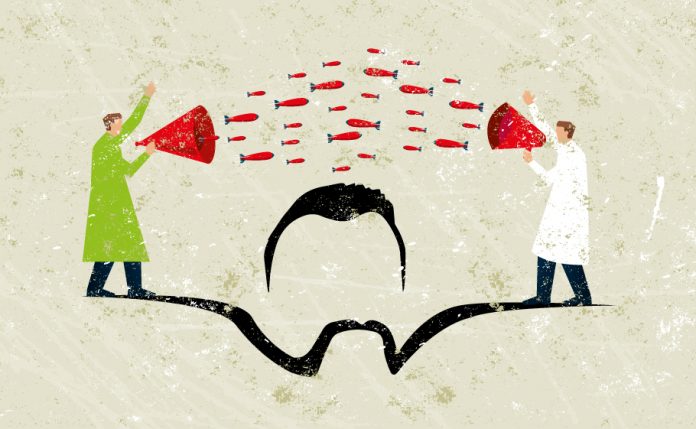 Indian Air Force (IAF) pilot Abhinandan Varthaman can still twirl his iconic moustache – for his action and subsequent capture are still talking points.
A Pakistani leader's admission that the country's forces were trembling, anticipating an attack by India if Abhinandan Varthaman was not released has given the BJP fresh ammunition to wage a battle on the ground against the Congress and its leader Rahul Gandhi even as a former IAF chief revealed that the posture of India's military during that period had been very 'offensive.'   
The ruling party has taken a swipe at Gandhi saying he never believed in anything India, be it the government or the armed forces, and that the fear of India's might in his "most trusted nation" Pakistan should make him "see some light".  
Related News: 'Gen Bajwa's legs shook over India's demand for Abhinandan's release'
"(The) Congress' princeling does not believe anything Indian, be it our Army, our Government, our Citizens. So, here is something from his 'Most Trusted Nation', Pakistan. Hopefully, now he sees some light"  BJP president Jagat Prakash Nadda said in a twitter post accompanied by a video showing Pakistan Muslim League-N (PML-N) leader Ayaz Sadiq talking about what transpired after Abhinandan was captured by Pakistan.
In a speech in the National Assembly, Sadiq said Pakistan feared an imminent attack from India. He said that in a meeting of opposition leaders, Pakistan's foreign minister Shah Mahmood Qureshi had said India would attack Pakistan "by 9 pm" that night if Abhinandan was not released. "Chief of army staff General (Qamar Javed) Bajwa came into the room, his legs were trembling and he was perspiring. The foreign minister said, 'For God's sake, release Abhinandan because India will attack Pakistan at 9pm'."
Continuing his dig at Gandhi, Nadda said, "(The) Congress Party premised its entire campaign around keeping our armed forces weak. They mocked our armed forces, questioned their valour and tried every trick to ensure India doesn't get latest Rafale Planes. The people India rejected such politics and punished the Congress." 
Abhinandan was captured by Pakistan after the MiG-21 he was piloting was shot down during a dogfight with Pakistan's air force a day after India had bombed terrorist installations of Jaish-e-Mohammed in Balakot in Pakistan-occupied Kashmir after the outfit killed 40 Central Reserve Police Force (CRPF) soldiers on February 14, 2019, in an attack on a convoy in Jammu and Kashmir's Pulwama. 
Related News: IAF pilot Abhinandan, who shot down Pak jet, to get Vir Chakra on I-Day
Former chief of IAF BS Dhanoa said Pakistan was left with little choice except to release Abhinandan. It refrained from causing any harm to the Indian pilot as it was aware of India's capabilities, he said. 
"There are two parts to it. The main pressure on Pakistan was diplomatic and political. But there was also a military posture," Dhanoa said. "He (Sadiq) says that his (General Bajwa's) legs ) were shaking. That is because the military posture was very offensive of all our three services, Army, Navy, Air Force," he told ANI.
"Had they hit our installations on February 27, we were in a position to wipe out their forward brigades. They know our capability," he said. "Basically, if this thing is there in their mind that we are likely to strike, they first look at how their own military is doing."
Dhanoa said he and Abhinandan's father "go back a very long time". "We did the flying instructor's course together," he said.
When Abhinandan was captured, his thoughts went to flight commander Ahuja's capture during the Kargil war who was killed by Pakistani forces after his MiG-21 suffered a hit. "That was playing in my mind. I told him (Abhinandan's father), 'Sir, I know we couldn't get Ahuja back, but we will definitely get Abhinandan back'," Dhanoa said. 
Related News: Abhinandan's squadron gets 'Falcon Slayer' patches to mark F-16 air encounter
After the Balakot airstrike in the early morning of February 26, 2019, Pakistan sent its Air Force into Indian airspace on February 27, 2019. Abhinandan was part of the sorties sent to intercept the Pakistani jets. He was captured by Pakistan after his MiG-21 was shot down during the dog fight. Before going down, Abhinandan had got a kill — he had destroyed a Pakistani F-16. He was held captive for about 60 hours before Pakistan released him on March 1, 2019. He reported back to service about six months later after his debriefing and after recovering from the injuries he suffered while in Pakistan's captivity. He was honoured with the Vir Chakra in August 2019.