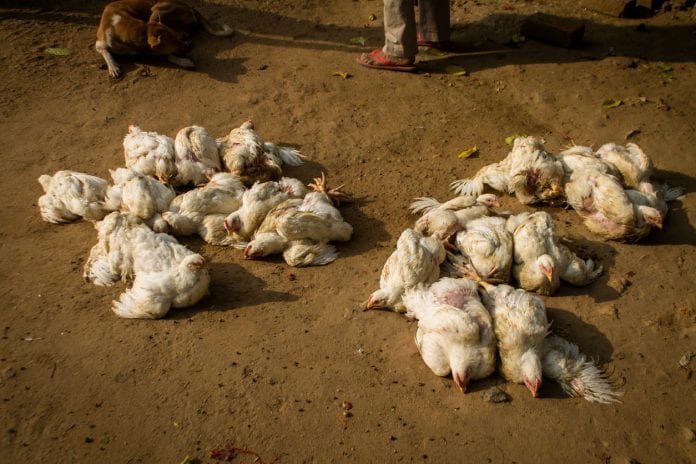 The Centre has confirmed the spread of bird flu in at seven states and issued an advisory to the concerned governments to avoid the further spread of the disease even as over 1,200 birds were found dead across the country on Saturday (January 9).
According to the Ministry of Fisheries, Animal Husbandry, and Dairying, cases of bird flu have been reported from Kerala, Rajasthan, Madhya Pradesh, Himachal Pradesh, Haryana, Gujarat and Uttar Pradesh.
More than 350 birds, including crows, pigeons and peacocks, were found dead in Rajasthan, taking its mortality count to 2,512. Gujarat reported its first cases of four dead crows in a village in Mangrol taluk of Junagarh district.
Bhopal has confirmed avian flu in 13 districts, with the total number of fatalities touching 1,100.
Advertisement
While Chhattisgarh, Maharashtra and Delhi have reported "unusual deaths of birds," tests reports from these states are awaited.
Over 900 birds were found dead on a poultry farm in Maharashtra. Samples of dead crows from Mumbai, Thane, Dapoli, Parbhani and Beed districts have been sent to NIHSAD for tests.
In view of the "unusual mortality" of poultry birds in Chhattisgarh on January 8 and 9 and wild birds in Balod district, the government has formed rapid response teams for emergency situations while the test results are awaited.
Related news: 24 crows found dead in Jasola park of Delhi
While no cases have been confirmed in Delhi so far, 24 crows were found dead at a park in Jasola locality of South Delhi while the death of 10 ducks have been reported from Sanjay Lake. Samples from the dead birds have been sent for testing.
The Delhi government has closed the Ghazipur poultry market for the next 10 days while imposing a ban on the import of live birds to the national capital.
The government has also formed a 24-hour helpline to assist people with complaints and redressal.
"Rapid response teams have been formed in every district to contain the spread and conduct proper surveillance, and they will function under the district magistrates. Our veterinary officers are conducting proper surveys in all bird markets, wildlife establishments and water bodies across Delhi," said Chief Minister Arvind Kejriwal.
He said the government is keeping a vigil on the poultry markets in Ghazipur, Shakti Sthal Lake, Bhalswa Lake, Sanjay Lake Delhi Zoo, DDA Parks, situation at Hauz Khas village, Pashchim Vihar and Dwaraka.
Related news: Avian Flu: Centre issues guidelines, states to cull birds
Meanwhile, Kerala has completed culling operations in the affected districts.