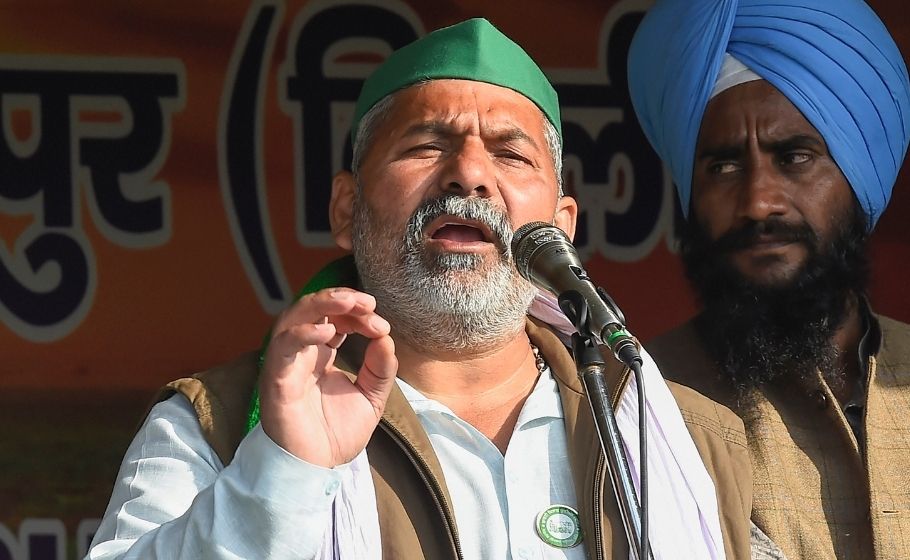 Bigger agitation than anti-farm laws stir needed on MSP issue: Rakesh Tikait
An agitation bigger than the one against the now repealed farm laws will have to be launched for a legal guarantee on the Minimum Support Price (MSP), said Bharatiya Kisan Union leader Rakesh Tikait on Wednesday (June 7).
Tikait condemned Haryana Police's lathicharge on protesting farmers who had blocked a national highway in Kurukshetra's Shahabad on Tuesday demanding the government procure sunflower seeds at Minimum Support Price (MSP).
"This is the first lathi-charge in the country on those demanding MSP," he said, while adding that MSP for crops is a pan-India issue. The struggle that began in Shahabad would reach the national level as every farmer is concerned about the MSP for different crops, he added.
"An agitation bigger than the one in Delhi (farmers agitation against now repealed farm laws) will have to be undertaken for MSP," he told reporters in Karnal.
Also read: Govt keeping country in dark, does not want to form committee on MSP: Rakesh Tikait
Tikait reached Shahabad to meet the farmers and support their demand for MSP on sunflower seeds. Nine leaders of the Bharatiya Kisan Union (Charuni), including its president Gurnam Singh Charuni, were arrested after farmers blocked the highway in Shahabad.
Wrestlers protest
Speaking on the ongoing wrestlers protest in the national capital, he said the farmer unions are in favour of talks being held between the government and the grapplers to resolve the issue.
A meeting between the wrestlers, led by Olympic medallist Bajrang Punia, and sports minister Anurag Thakur was held at his Delhi residence on Wednesday morning.
Also read: Why MSP legislation has become an economic and political hot potato
Thakur called the meeting to break the deadlock as the wrestlers have been adamant that they will continue their stir till Wrestling Federation of India (WFI) chief Brij Bhushan Sharan Singh, who has been accused of sexual harassment by grapplers, is arrested.
Tikait too demanded that Singh be arrested.
"We've said talks should be held between the government and the wrestlers. They held a meeting with Union home minister (Amit Shah) earlier and now with the sports minister," he said.
"We were in favour of talks between the two sides to resolve the issue. The entire country wants justice to be delivered in the case," he said.
(With input from agencies)