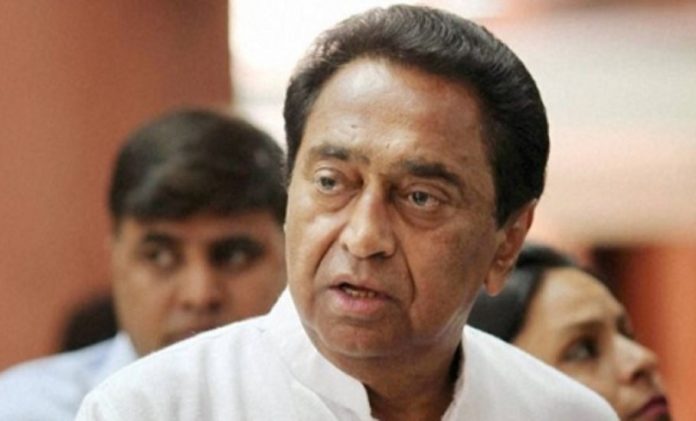 Former Madhya Pradesh chief minister Kamal Nath's visit to Bageshwar Dham on February 13 for a two-hour meeting with the temple's head priest, 26-year-old Dhirendra Krishna Shastri, may have raised hackles among the ruling BJP but at the risk of embarrassing his own party and deflating Rahul Gandhi's sustained campaign against the cheerleaders of a 'Hindu Rashtra'.
A dubious godman with a steeply ascendant fan following on account of his self-professed powers of clairvoyance and ability to perform miracles, Shastri has, in recent months, emerged as a rising star within the Hindu-right ecosystem.
Senior BJP leaders such as the party's national general secretary Kailash Vijayvargiya, state BJP chief VD Sharma and MP home minister Narottam Mishra, among many others, have praised Shastri's 'divine powers' and his commitment to the Hindutva cause. He has been an unabashed votary of turning secular India into a 'Hindu Rashtra' and publicly pledged support to the Hindutva brigade's fanciful 'Akhand Bharat' project.
Also read: No danger to minorities: RSS chief Bhagwat; 'Hindu Rashtra concept taken seriously'
Controversial priest
The head priest of Bageshwar Dham in MP's Chhatarpur district has also been in news frequently over the past two months; never for the right reasons. Claims of death threats being made to him had led a band of self-styled godmen to sit in protest at Delhi's Jantar Mantar earlier this month demanding Z+ security cover for Shastri while also using the venue to spew hate against Muslims and call for their genocide.
Twitter has been flooded with viral videos of Shastri's dramatic – and nonsensical – durbars at his Ashram, where he regales his audience with tales of 'miracles' he has performed in the past and offers verbal prescriptions to rid his followers of any hardships they face in life.
This new found fame has also brought expected scrutiny of Shastri's meteoric rise from an auto driver in Chhatarpur's little known Gadha village till a few years ago to the millionaire Bageshwar Dham Sarkar – as he is called by his followers. He reigns supreme over a fast-expanding religious fief that has guaranteed him an unending stream of visitors, including top politicians, who come bearing expensive offerings as well as commoners who need to apply for an online – and paid – appointment for his darshan.
Also read: How far can dharmic principles sustain India as a Hindu rashtra?
Nagpur challenge
In January, while Shastri was in Nagpur to attend a Bhagwad Katha (recital of the Bhagwad Gita), a group of rationalists had challenged him to prove his miraculous powers. Shastri refused to take up the challenge and reportedly fled from Nagpur two days before his scheduled departure.
The incident had led Congress veteran and Leader of Opposition in the MP Assembly, Dr. Govind Singh, to hit out at Shastri for "fleeing in the middle of the night" and demand that the godman should "prove his claims (of performing miracles) so that people's faith in Sanatan Dharma is not eroded".
Singh stopped just short of calling Shastri a charlatan but made it clear that "I am against the hypocrisy (pakhand) and deceit (dhong) of anybody in public life". An incensed BJP had demanded an apology from Singh for his remarks, stating that the Congress veteran had "hurt sentiments of Hindus".
Also read: CAA-NRC regime part of BJP's Hindu Rashtra project: N Ram
Shortly after Nath met Shastri on February 13, Madhya Pradesh BJP chief VD Sharma demanded that the former chief minister must "clarify on the Congress' double standards… their LoP is attacking Bageshwar Dham Sarkar and their state president (Nath) is praising him (Shastri)".
Politics leads to meeting
Sources close to Nath told The Federal that his meeting with Shastri was "born out of political expediency". Madhya Pradesh goes to polls at the end of this year. Nath is hoping that a favourable result for the Congress would help him return as Chief Minister after his first term in office, which began in December 2018 following a slender Congress victory after 15 years of uninterrupted BJP rule, ended abruptly in March 2020 when the BJP enlisted Nath's rival Jyotiraditya Scindia to poach nearly two dozen Congress MLAs and topple the government.
In a short span of time, Shastri has amassed a massive following in Chhatarpur and adjoining districts of the state's Bundelkhand region. His clout only seems to be growing. A BJP leader from Chhatarpur told The Federal that Shastri's rise was due to the patronage he received from Alok Chaturvedi, Congress MLA from Chhatarpur, but the godman had been moving closer to the BJP by virtue of sharing the same ideology.
Also read: 2024 polls: Rahul Gandhi will be Opposition's PM face, says Kamal Nath
Shastri is now a vocal supporter of Narottam Mishra, whose electoral fiefdom of Datia neighbours Chhatarpur, though he still shares a personal rapport with Chaturvedi. The Chhatarpur MLA was also present at Nath's meeting with Shastri. Also in attendance were Congress's former Khandwa MP Arun Yadav and senior MLA Sajjan Singh Verma, one of Nath's closest aides in the state Congress, seen sitting at Shastri's feet, hands folded in obeisance.
Informed sources said Nath wanted to ensure that owing to Govind Singh's comments, Shastri doesn't take a public stand against the Congress in the run up to the Madhya Pradesh assembly polls.
Kamal Nath
The former Madhya Pradesh chief minister, who often flaunts his religious credentials of being a staunch follower of Lord Hanuman and Lord Mahakaal, is believed to have assured Shastri that Congress leaders would be cautioned against criticising him or the growing Bageshwar Dham cult.
These overtures, perhaps, make political sense for Nath given that the Congress has been struggling to regain its lost ground in Madhya Pradesh, a big Hindi heartland state with an increasingly polarised politics that has proven advantageous for the BJP.
The palpably growing communal polarisation in MP, despite a relatively small Muslim population – just around 7 per cent, concentrated in a handful of assembly constituencies across districts like Bhopal, Sehore, Shajapur, Burhanpur, Khandwa and Indore – has also forced a transformation in chief minister Shivraj Singh Chouhan's public persona from a man who would once host iftaars and even don the skull cap to one who now constantly tries to emulate his Uttar Pradesh counterpart, the rabidly communal Yogi Adityanath.
Unlike his colleague and former Chief Minister Digvijaya Singh, who also repeatedly professes his allegiance to values of the Sanatan Dharma but bats openly for protecting the rights of Muslims – often to the discomfiture of other Congress leaders, Nath is rarely ever heard speaking against atrocities on the minority community.
A la AK Antony
Congress insiders concede that Nath is among the section of party leaders who subscribe to AK Antony's view that the Congress needs to shed its image of being pro-Muslim if it hopes to counter the BJP's aggressive Hindutva under Modi.
As such, there was "nothing surprising" about the outreach to Shastri, a senior Madhya Pradesh Congress leader told The Federal, adding that at the Udaipur Nav Chintan Shivir of the party last year, Nath had also pushed for the a visibly pro-Hindu tilt in the Congress's political programmes. "Ever since he took the reins of the party in Madhya Pradesh, he has been encouraging office bearers, district and block level leaders to celebrate Hindu festivals with pomp and show and organise events that bring Hindu voters back into the party's fold while his stand on issues concerning the Muslims, such as the riots in Khandwa last year, has been to do nothing," the leader, a former Lok Sabha MP, said.
While this approach, he said, had eroded the Muslim community's trust in the Congress in MP, "Nath believes that electorally this would not hurt the party as MP is a bipolar state and the Muslims have no choice but to vote for the Congress, so why not focus on the Hindus," he added.
Nath had originally planned to meet Shastri in the last week of January, days after Govind Singh's criticism of the Bageshwar Dham chief, but the meeting had to be cancelled at the last minute.
Derailing secular values
Asked why he wanted to meet a godman who was publicly supporting calls for a Hindu Rashtra, Nath said: "Dharmic guru apne dharm ki baat karein, usme koi kharabi nahi hai (What is wrong in religious gurus speaking about their faith)… People may have their own views but ultimately we must remember that this country can only stay united if it is run according to its culture, traditions and the Constitution".
When he was asked this question again after his meeting with Shastri on February 13, Nath tweaked his earlier statement and said: "Babasaheb Ambedkar gave us a Constitution for the country and the country runs on the basis of that Constitution."
This cavalier dismissal of evidently divisive statements made by an influential godman is a telling commentary on the duplicity in the Congress' avowal of a secular polity. It remains to be seen whether Rahul Gandhi, who publicly ridiculed Digvijaya Singh for asking the Narendra Modi government to "give proof" of the 2016 surgical strikes against Pakistan, would have anything to say about Nath wooing a controversial charlatan whose views on India's social fabric mirror those of the BJP-RSS ecosystem.
What is clear though is that, at least in Madhya Pradesh if not elsewhere, the message of unity, syncretism and communal bonhomie that Rahul Gandhi wanted to spread with his Bharat Jodo Yatra is being undermined within three weeks of that historic cross-country march concluding in Srinagar – and there's still over a year to go before the Congress faces the BJP in the 2024 Lok Sabha polls.