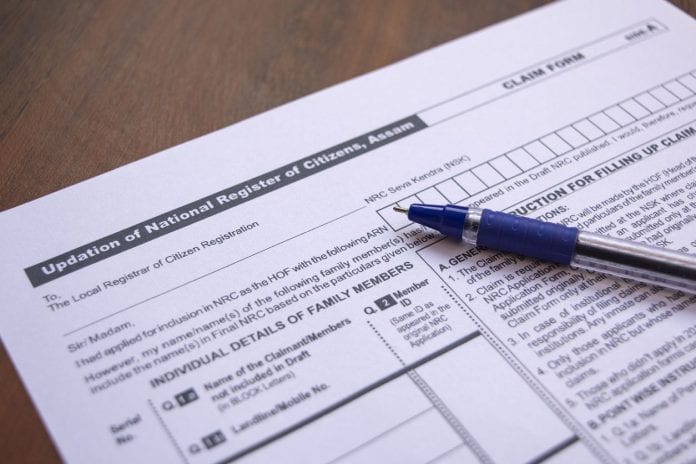 The updated data of Assam's National Register of Citizens (NRC) including the final citizen's list published on August 31 last year, has disappeared from the official website of the state coordinator of national registration.
While the Union Home Ministry citing "technical issue in visibility on cloud" has assured that the data is safe, NRC authorities blame non-renewal of contract with IT firm Wipro as the reason behind the disappearance. A TOI report quoting an NRC official, stated that Hitesh Dev Sarma, the new state NRC state coordinator who replaced Prateek Hajela hadn't taken charge when the cloud-storage subscription lapsed.
"The subscription renewal for cloud storage provided by Wipro wasn't done on time because Hajela was transferred. Now that a new coordinator has assumed charge, the renewal process is underway. The data should be online in a few days," the official was quoted as saying.
Related news: NRC fears trigger rush for marriage certificates in Telangana
"The cloud service for the huge set of data was provided by Wipro and their contract was till October 19 last year. However, this was not renewed by the earlier co-ordinator (Prateek Hajela). So, the data got offline from December 15 after it was suspended by Wipro. I assumed charge on December 24," PTI quoted Sarma as saying on Tuesday.
Stating that he wrote to Wipro in the first week of February after completing the formalities with the state coordination committee on January 30, Sarma assured that the data will be available to the public once Wipro makes it live.
"We hope that people will be able to access it in the next two to three days," he said.
The data which reportedly contained 3.11 crore names included and 19.06 lakh names excluded from the state's NRC list, was put up on the website (nrcassam.nic.in) on the Supreme Court's orders, after the final list was published on August 31, 2019.
Related news: Politics, misery, hope: Life in informal settlements amid NRC scare
Hajela, a Supreme Court-appointed NRC coordinator in Assam, was entrusted with creating a "legacy data" system since September 2013. In October 18, 2019, the Supreme Court ordered his transfer to Madhya Pradesh. While the apex court didn't specify the reason for the transfer, it was speculated that it was due to a threat to the coordinator's life, which in turn was a result of the controversies he had courted while preparing the NRC list.
The mysterious vanishing of data, on the other hand, has been criticised by the Opposition. The Congress, suspecting it to be a mala fide act, has asked NRC officials to look into the "suspicious development".
"There is ample scope to suspect that the disappearance of online data is a mala fide act. (It) is prima facie deliberate violation of the directive issued by the Hon'ble Supreme Court," wrote Congress leader Debabrata Saikia, in his letter to Sarma on Tuesday.
(With inputs from agencies)