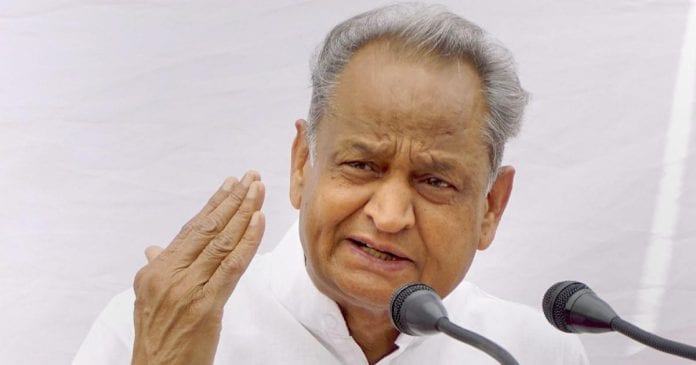 Rajasthan Chief Minister and senior Congress leader Ashok Gehlot has come down heavily on BJP-ruled states that want to bring in laws to curb 'love jihad' cases. Gehlot said such a 'law would be struck down by any court.'
The Rajasthan Chief Minister tweeted: "Love Jihad is a word manufactured by BJP to divide the Nation & disturb communal harmony. Marriage is a matter of personal liberty, bringing a law to curb it is completely unconstitutional & it will not stand in any court of law. Jihad has no place in love."
Also read: No 'Love Jihad' cases in Kerala: Union Home Ministry tells Parliament
Advertisement
Gehlot said, "Marriage is a personal decision & they are putting curbs on it, which is like snatching away personal liberty. It seems like a ploy to disrupt communal harmony, fuel social conflict & disregard constitutional provisions like the state not discriminating against citizens on any ground."
So far, Karnataka, Haryana, Madhya Pradesh and Uttar Pradesh have announced plans to introduce bills against "love jihad."
Also read: Will put an end to religious conversion via 'love Jihad': Karnataka CM
Madhya Pradesh Home Minister Narottam Mishra had said a few days back, "Cases will be registered under non-bailable sections…The collaborator will also be the culprit like the main accused. For voluntary conversion for marriage, it will be mandatory to apply to the collector a month in advance," Mishra was quoted as saying in the media.
The Dharma Swatantrya (Freedom of Religion) Bill, 2020, in Madhya Pradesh proposes five years of rigorous imprisonment for "luring a person through fraud and forcing marriage by religious conversion" Mishra said, adding that such an offence would be non-bailable.
Also read: Christian women lured into IS trap, alleges Catholic church in Kerala
Haryana Home Minister Anil Vij said, "A strict law will be enacted to control love jihad cases in Haryana. A committee shall be constituted to draft this law."
"With the enactment of this law, strict action will be taken against any person who is found indulging in religious conversion by pressuring, tempting someone or is involved in any kind of conspiracy or trying to do so in the name of love. Haryana will also study the laws made by other states on the same subject," Vij said.
Uttar Pradesh Chief Minister Yogi Adityanath had sent out a warning using the Hindu funeral chant 'Ram Naam Satya Hai' to threaten those who don't respect their daughters and sisters.
"We will bring an effective law. It is my warning to those who play with the honour and dignity of sisters and daughters by hiding their real names and identities. If they do not mend their ways, their 'Ram Naam Satya' journey will start," Adityanath had said.
The BJP government in Karnataka too had said it will ban 'love jihad' in the state. "Already, I have discussed with our senior officers and within two to three days we are going to take a decision, I want to ban that in Karnataka," Chief Minister B.S. Yediyurappa said in Bengaluru on November 6.