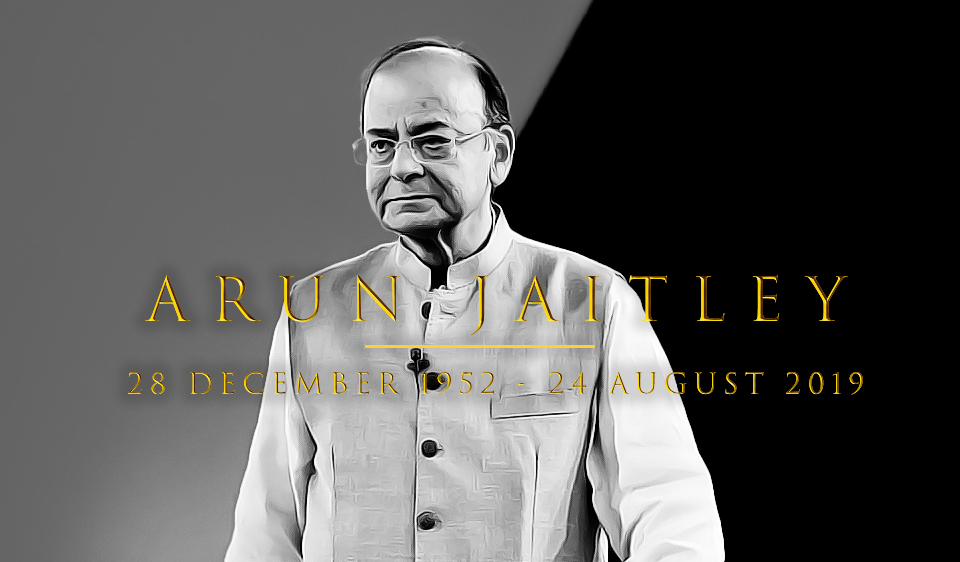 Arun Jaitley, the man who introduced Modi, Shah to Lutyens' Delhi
Arun Jaitley will be remembered as someone who smoothed out the rough edges of the party's main leaders and brought them closer to the ways of Lutyens' Delhi.
A successful lawyer, a suave politician and a loyal wingman with a fleet of cars that carried the same registration number — 6666. This wasn't just a typical display of wealth, but also a testimony of a man's unapologetic love for a high life.
Arun Jaitley lived a full life and had a wide circle of friends across sectors, including politics, corporates, legal profession, diplomacy and journalism. And he leveraged them to shape his own career as well as India's contemporary politics.
Jaitley was one of the earliest politicians to sense the changing political scenario in Delhi. He had closely watched the rise of the BJP and the declining fortunes of the Congress during the LK Advani era. He was a minister in Atal Bihari Vajpayee's cabinet and had learnt the ropes in governance. But it was between 2009 and 2014, as the Leader of the Opposition in the Rajya Sabha, that he began to read the tea leaves.
Jaitley realised that the ground was shifting in Indian politics. While the Advani-Vajpayee era had come to a close, the Congress, embroiled in serious cases of alleged corruption and mismanagement, was losing the plot. The slogan "government in deep paralysis" represented by Manmohan Singh was hitting home and it was time for a change.
This is when Jaitley shifted his political allegiance and left the Advani camp to back the then Gujarat Chief Minister Narendra Modi as the prime ministerial candidate. He successfully convinced Venkaiah Naidu, Sushma Swaraj, Gopinath Munde and Ananth Kumar to do the same as they were all ardent followers of Advani.
In 2012-13, he assiduously began the task of shaping the image of Modi. Using his training as a lawyer, he argued the legal cases stacked against Modi. Jaitley also started to build a narrative that false and politically motivated cases were foisted by the Congress to tarnish Modi's image. He spoke in Parliament, wrote blogs, addressed press conferences and networked with Opposition leaders explaining his point of view.
Besides airbrushing Modi's image, Jaitley begun to push for his candidature within party forums. As a result of some of these efforts, Modi was declared BJP's prime ministerial candidate in 2013 at the party's Goa session. All along, Jaitley was also actively providing legal counsel to Amit Shah, who was ensnared in a plethora of cases. When Shah was barred from entering Gujarat during the Sohrabuddin encounter trial, he would often land up in Jaitley's Bengali Market office in Central Delhi to seek legal help.
In the run-up to the 2014 elections, Jaitley started to put his network to use. In 2013, during his morning walks at Lodhi Gardens, he would connect with his lawyer friends and diplomats.
In the afternoon, he would brief BJP spokespersons on what to say during press briefings and television appearances. A whole new generation of spokesperson were created by him who would speak in one voice and effectively toe the party line. He would write blogs, which became the guide for spokespersons in the southern states such as Andhra Pradesh, Karnataka and Tamil Nadu.
Jaitley promoted and encouraged leaders like Nirmala Sitharaman, Piyush Goyal, Bhupendra Yadav, Dharmendra Pradhan, Meenakshi Lekhi and Kirron Kher. Later, some of them went on to become ministers in the Modi cabinet. Late afternoons, he would meet up journalists in his Bengali Market office over "tikki" (patty) party. He loved aloo tikki (potato patties), hot samosas and tea ferried from nearby joints. Journalists were fed gossips and news points.
Jaitley knew how to win friends and influence people. In fact, he did more than that. He understood his own strength and weaknesses and decided to be the power behind the throne — an intellectual who would facilitate the rise of a mass leader. He continued to do the same even after Modi assumed power in 2014.
In the first two years of Modi government, he guided him from behind the scenes, explained him the way Delhi works, used his network to source career bureaucrats and officials in various professions. Although Modi was well-versed in governance as a chief minister, he required Jaitley's support to understand the ropes in Delhi's power corridors. Although Modi, unwittingly, hated Lutyens' Delhi, Jaitley was the interlocutor who introduced the city elite to him.
Jaitley also networked closely with regional leaders. He was friendly with almost all politicians — from Nitish Kumar to Lalu Yadav and Sharad Pawar. His role in the Board of Control for Cricket in India (BCCI) as a cricket enthusiast and administrator in India's cricketing world brought him closer to several politicians and corporate honchos. One of them was National Conference president Farooq Abdullah. He, however, quietly removed himself from the scene when the cricketing management got caught in various controversies.
He had a wide circle of friends in the legal fraternity. When the judiciary was hit by an institutional crisis in 2018 and the government was accused of interfering in the highest levels of the judiciary, Jaitley was the obvious choice to defend the government record.
He brought Modi closer to the late AIADMK supremo J Jayalalithaa. He won her confidence by advising her in a disproportionate assets case involving her. Whenever he would visit Chennai, Jayalalithaa would always meet him warmly. He played a crucial role in tying up with the TDP in 2014. The BJP-TDP relations, however, soured in 2019.
In return, Modi made Jaitely India's finance minister and gave him the crucial portfolios of defence and information and broadcasting. His help was sought on crucial decisions such as cabinet formation, drafting internal cabinet notes etc.
In the first two years of the Modi government, Jaitely was his closest collaborator. In fact, Modi confided in Jaitely his desire of inviting Saarc leaders for his swearing-in ceremony. Also, it was Jaitely who would clear the list of journalists who would meet Modi. Jaitley was the crucial link between India's media moguls and the prime minister.
Despite all that, Jaitley seem to have little say when it came to some crucial decisions regarding the finance ministry. He did not demur when critical segments of the ministry such as the Enforcement Directorate and other investigative wings were brought directly under the Office of the Prime Minister. He was aware of the broad contours of demonetisation move, but not its timing or announcement. He simply accepted Modi's leadership.
Even though Jaitley was the finance minister from 2014-2019 and held various important portfolios in both Modi and Vajpayee governments, direct elections eluded him. He was always a Rajya Sabha member. In 2014, he contested his first direct election in the Amritsar Lok Sabha seat but lost it to Captain Amarinder Singh. He was later made a Rajya Sabha MP.
His two major achievements in the Modi government were rolling out the 'One Rank, One Pension' scheme for the armed forces and introducing the Goods and Services Tax. He also pushed the controversial Electoral Bond scheme. Amid all this, Jaitley managed to cold shoulder a whining rival from within the party, MP Subramanian Swamy, who has been a constant critic of the late leader. According to Swamy, neither Modi nor Jaitley "knew economics". Jaitley, however, successfully dodged all bullets fired at him by a motormouth Swamy. But what he couldn't beat was fate.
From 2017 onwards, his health started showing growing signs of concern. Back in September 2014, Jaitley, who suffered from chronic diabetes, underwent a bariatric surgery for weight reduction. He had undergone kidney transplant in May last year. In January this year, he was diagnosed with cancer. This was when Piyush Goyal filled in for him in the finance ministry. Jaitley had stopped attending office since early April 2018 and was back in the finance ministry only on August 23, 2018. The 66-year-old leader was admitted to the All India Institute of Medical Sciences on August 9 and put on life support system.
He had effectively handed over all his charges to Amit Shah long ago in the second half of Modi's first term as the PM. The former Union minister did not contest the 2019 Lok Sabha elections and was not included in the Modi cabinet, owing to health reasons. Jaitley, however, remained active by writing blogs and voicing his opinion on various issues. In fact, his last blog was on the scrapping of Article 370, which he described as "achieving the impossible" by Modi and Shah.
Jaitley will always be remembered as a liberal within the BJP family. He was never a votary of hardcore Hindutva values  and avoided taking extreme positions —  a reason why he was looked at suspiciously by the RSS leadership in Nagpur. To some of his friends, Jaitley was "the right man in the wrong party" and he disliked it. Yet he wished to be remembered as an intellectual behind the powers that be and he succeeded in doing that.
Jaitley will be remembered as someone who smoothed out the rough edges of the party's main leaders and brought them closer to the ways of Lutyens' Delhi.
( R Rajagopalan is a Delhi based journalist and an avid BJP watcher)