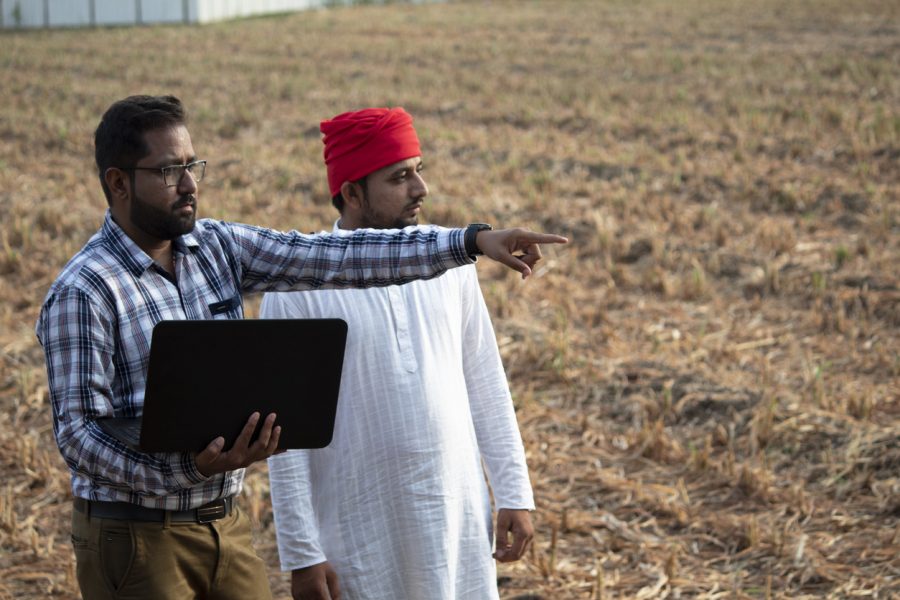 Andhra, Bengal, Odisha among 'Star States' in governance ranking
The Skoch ranking looked at police & safety, agriculture, mining, finance and revenue, e-governance, health, rural development, ease of doing business, women & child welfare
Andhra Pradesh has secured the number one spot for the second year running in the governance report card for 2021 released by the Skoch Group. This annual State of Governance report ranks states according to their performance in various projects at the state, district and municipal levels.
For 2021, Andhra Pradesh, alongwith West Bengal, Odisha, Gujarat and Maharashtra, complete the top 5 'Star States' in India. Telangana, Uttar Pradesh, Madhya Pradesh, Assam and Himachal Pradesh were the 'Performers' to complete the Top 10.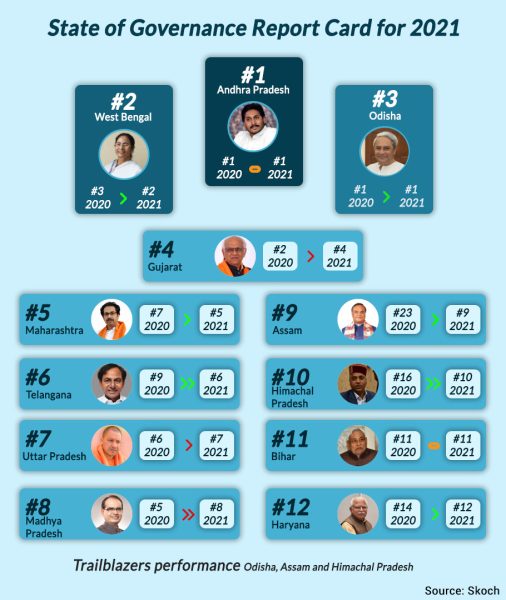 The states' performances were analysed in terms of police and safety, agriculture, mining, finance and revenue, e-governance, health, rural development, ease of doing business, women and child welfare, transport, and water supplies.
Andhra's all-round success
Andhra Pradesh ranked first in the implementation of rural development projects, police and safety, agriculture, e-governance and district administration management.
Odisha, Assam and Himachal Pradesh were deemed the 'Trailblazers' for their exceptional improvement in the rankings between 2020 and 2021. Assam and Himachal Pradesh improved on their previous year's ranking of 23rd and16th, and finished 9th and 10th, respectively.
Odisha showed the most improvement in water, geology & mining, and women and child development. Assam did well in water, district administration and rural development, while Himachal Pradesh showed improvement across sectors.
The report is prepared on the basis of projects submitted by the states. A jury evaluating the projects shortlists them. These shortlisted projects are put to a popular vote on the website and experts' vote through exhibition to get an overall score to decide the ranking.
Focus on e-governance, health
The ranking maps the shifting interests of different state governments and provides valuable insights into governance trends and opportunities, said Skoch in a statement. "In 2021, e-governance, health and agriculture saw increased focus while the focus on urban development, transport and education decreased," it pointed out.
"In 2022, we might see a renewed focus on education, owing to the opening of educational institutes after a substantial period," it added.
Though COVID norms have been rescinded by most state governments, the focus on e-governance, which gained traction during the lockdowns, is likely to remain.
However, one of the main issues that restricts the effectiveness of e-governance programmes is the fact that both literacy rates and internet penetration are still relatively low in the country, as compared to developed nations. Even where the internet is available, most people are not tech savvy to use it effectively. This means that they cannot or are not fully able to take advantage of the e-governance programmes that various state governments run.
Digital divide in governance
The Twitter governance model of Telangana is a case in point. Under this set-up, citizens facing health, social or civic issues post their concerns on the microblogging site and tag officials. Their problems are quickly resolved and news of this is often amplified by sections of the mainstream media, reported The Hindu. But, it points out that only tech-savvy people and those with social media access can benefit from this model. Telangana has a literacy rate of 72.8%; the urban-rural divide is also sharp, with 60% of the people living in villages which have limited broadband access, it added.
Such a case was also seen with the CoWin app launched by the Centre for COVID vaccination. The vaccine appointments were cornered by mostly the urban elite, leaving  the internet illiterate to form queues to get themselves inoculated.