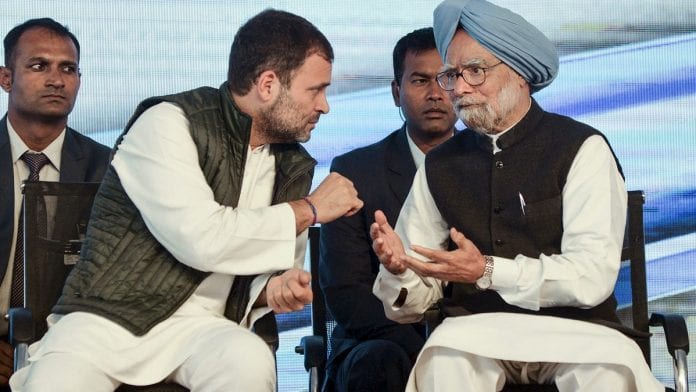 The Congress found itself in a defensive mode once again after Priyanka Gandhi Vadra's 2019 remark over a possible non-Gandhi Congress president hit the headlines. Congress spokesperson Randeep Surjewala claimed the statement was a year old and irrelevant today.
Priyanka had given an interview in 2019, immediately after Modi came to power a second time. She had said that her family respected Rahul Gandhi's decision to resign and also his suggestion that no family member should become the party president. Priyanka had also ruled out any possibility of she taking over as party president anytime even in the near future.
[NDTV reported that Priyanka Gandhi was quoted in media reports in an interview taken from the book, 'India Tomorrow: Conversations with the Next Generation of Political Leaders,' authored by Pradeep Chibber and Harsh Shah].
"We at INCIndia appreciate the sudden media interest (egged on by BJP) in a year old remark (Dated 1st July 2019) of Smt. Priyanka Gandhi Vadra. The context today is to take on the vicious attack on India's polity by Modi-Shah dispensation and fight it fearlessly on the front foot," Randeep Surjewala said in a tweet.
Batting for the Gandhi family, Surjewala said, former Prime Minister Manmohan Singh had offered to resign and make way for Rahul Gandhi but he declined the top post. "Millions of Congress workers and leaders have seen that Sh. Rahul Gandhi has led the fight tirelessly, undaunted by the setbacks and vile attacks by the Modi government on a daily basis. It is this fearlessness and uncompromising courage that INC requires, workers respect and nation needs," said Surjewala in a tweet, hinting that the door is still wide open for Rahul Gandhi to become party president once again.
Surjwala heaped praise on the Gandhi family for 'their service for Congress, unmindful of the trappings of power'. "Nehru-Gandhi family has held together and served @INCIndia unmindful of the trappings of power. In 2004, Sonia Ji set an example by sacrificing power to serve the Party. In 2019, Rahul Ji showed the courage of conviction & stepped down as INC President," Surjewala said.
The row has come at a time when there is a growing clamour for leadership change in the Congress party amidst speculation that Rahul Gandhi would make a comeback. A few days back, suspended Congress leader Sanjay Jha tweeted that 100 party leaders, including MPs and ministers, had written to Sonia Gandhi demanding a change in leadership and transparent elections. The Congress has denied Jha's claim.
Congress is virtually without a president after Rahul Gandhi resigned following Congress' drubbing in the 2019 Lok Sabha elections. Sonia Gandhi has been holding the Congress fort as the interim chief, but her one-year term too has come to an end and party workers are eager to have a full-time president. Rahul Gandhi has maintained that he is out of the race, but speculation is rife that he may return eventually to lead the party, desperately in need of a full-time leader.