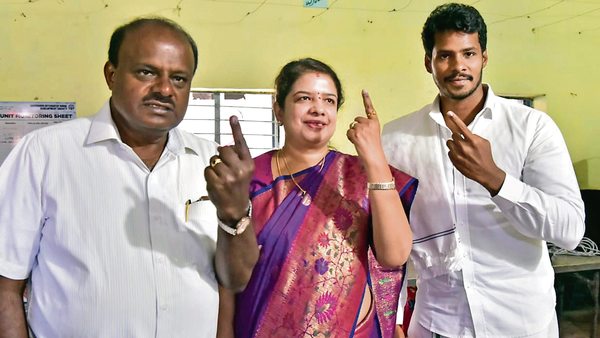 If one thing that Karnataka's grand old regional party Janata Dal (Secular) learnt from the recent Lok Sabha poll rout, it is its absence on social media platforms to counter the Bharatiya Janata Party.
JD(S) and its coalition partners won one seat each in the 28 seats they contested in the state. Now, the party looks forward to revive its IT cell and improve its social media presence to rebuild its images among youth.
The chief minister's son Nikhil Kumaraswamy, who lost to actor Sumalatha Ambareesh, became the subject of ridicule ahead of the elections and online smear campaigns against him ruled the roost.
Advertisement
Now, he will lead the party's IT cell and oversee its presence on social media. The party, which currently has about 15 members as part of its IT cell, will increase its headcount to 150 members by September.
Also Read: Kumaraswamy yells at protesters, tells them to go to Modi with problems
Speaking to The Federal, Chandan Dhore, a core committee member of the party's IT wing, said that JD(S) plans to rebuild its network at the grassroots level and reach out to the youth with a new message.
"We realised that barely 10 per cent of our MLAs and MLCs had online presence. We would first want to educate and encourage them to have a Facebook and Twitter ID. Then we will focus on building network at a hobby-level, much on the lines of how BJP does," Dhore said.
While JD(S) is already in talks with a private consulting firms — which helped regional parties in other states — Dhore said they were only in the initial stages and the party is yet to finalise any firm. "Unlike the BJP, we will not be push fake news to spread a false agenda," he adds.
JD(S) has already started giving befitting replies to the BJP in the same tone that latter uses—harsh, arrogant and impulsive. For instance, in the last two days, it took on the 'lies' of first-time BJP MP Tejasvi Surya and Prime Minister Narendra Modi.
.@Tejasvi_Surya Instead of being a sycophant of the PM, invest your time in hearing out the problems of people in your constituency.

There are a lot of lies(as usual) in your "first ever speech". Few of them were already busted by MP Prajwal Revanna. Free for debate?

— Janata Dal Secular (@JanataDal_S) June 26, 2019
.@narendramodi Dear PM, Church street was renovated under TenderSURE project by Govt of Karnataka along with BBMP. Why are you taking credit?

Taking credit for someone else's work is a perpetual habit of our PM. Nothing has changed in the last 4 years.

Ever heard of Conscience? https://t.co/AJFtz7fJMS

— Janata Dal Secular (@JanataDal_S) June 25, 2019