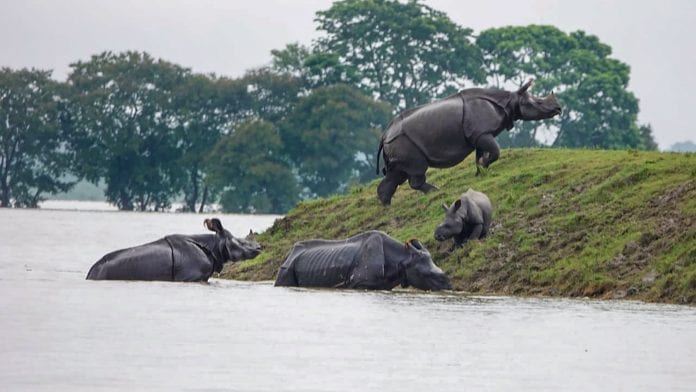 The Kaziranga National Park and Tiger Reserve — well known for its one-horned rhinos — opened to tourists on Wednesday. It was closed for nearly eight months following the COVID pandemic.
Assam faces floods during the peak of monsoon every year. Therefore, national parks and wildlife sanctuaries are closed for four months starting June. However, this time the parks shut in March due to virus scare.
Advertisement
TOMORROW!
Let's promote a culture of #responsibletourism. We @kaziranga_ cordially invite everyone for the park opeming ceremony🙏#welcometokaziranga @sarbanandsonwal @CMOfficeAssam @ParimalSuklaba1 @ntca_india pic.twitter.com/vIpZ2Vx8x5

— Kaziranga National Park & Tiger Reserve (@kaziranga_) October 20, 2020
"This is the first time in history that the park has been shut for so long," said P Sivakumar, director of Kaziranga National Park and Tiger Reserve. "We closed in March itself because of the pandemic. We are shut from June to September anyway because of the floods." This year the park faced its sixth-worst flood since 1988, killing more than 150 animals, including rhinos and hog deer.
Sivakumar said tourists will be screened on entering the park. Besides, wearing masks, using hand sanitisers, as well as a regulated number of jeep safaris at a time, among other precautions will be taken.
"We have tied up with the local hospital authorities — if anyone shows symptoms on being screened, they will be referred there for a test," said Rabindra Sarma, Wildlife Research Officer, Kaziranga National Park and Tiger Reserve.
Also read: Rhino poachers try to make a killing in Kaziranga during lockdown
Each vehicle will be sanitized at the entry to the park. Only four jeep safaris will be allowed at a time, and a distance of at least 500 m between each jeep will be maintained. Tourists will not be allowed to get down, or gather at one place. Each jeep will have four people, including the driver and forest guard. If the guests are not accompanied by a forest guard, then one more guest can be accommodated. Children below 10 and seniors above 65 cannot visit the park.
As of now, only some areas in the park will be open with jeep safaris operating in Kaziranga Range, Kohora and Western Range due to "inclement weather and road conditions" inside the park. Other ranges on the eastern side will be opened in due course of time.
Elephant safaris will begin on November 1.
Sivakumar said, "The response from tourists so far is 'below normal'. The tourist season is usually open from November, we have brought it a little forward because of Durga Puja. The first two-three days usually has local tourists visiting."
Many locals depend on tourism for income. The park usually is open till May. Tourism suffered this year at Kaziranga due to the anti-Citizenship Amendment Act protests in December and then the pandemic.
Out of Assam's five national parks, three have, so far, opened for the tourist season, including the Kaziranga National Park and Tiger Reserve. While Manas National Park and Tiger Reserve opened on October 2 with strict Covid-19 protocol in place, Orang National Park and Tiger Reserve will open on November 1.
Meanwhile, an extended lockdown worked well for poachers of the famed one-horn rhino. In the two weeks of April, more than five attempts of poaching were thwarted by forest guards and the Special Rhino Protection Force (SRPF). With the lockdown place, vehicular movement on the National Highway 37, which runs through the national park, had come down. Similarly, with a lower number of people around the park, the animals were roaming freely and many of them had tread to the fringes. This is a reason why the poachers were going for the kill. With the national park opening for tourists, authorities hope the poachers' activities will be contained.