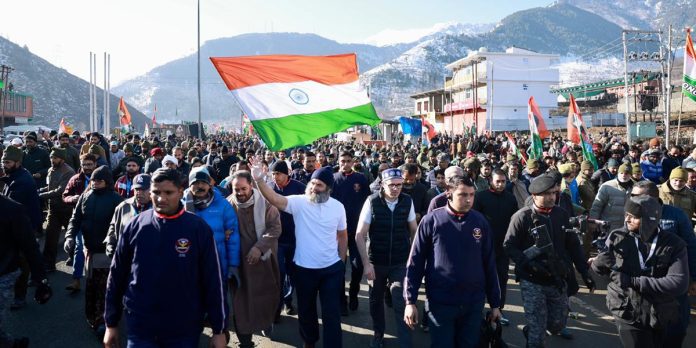 Buoyed by the success of the south-to-north Bharat Jodo Yatra, the Congress has planned another similar march led by Rahul Gandhi, this one from east to west, in the run-up to the 2024 Lok Sabha elections.
News agency PTI reported that the march may start from Pasighat in Arunachal Pradesh and end in Gujarat's Porbandar. The announcement came from party spokesperson Jairam Ramesh as the Congress concluded a three-day plenary in Chhattisgarh's Raipur on Sunday (February 26).
Also read: Rahul Gandhi: 'My arrogance was wiped out after first month of Bharat Jodo Yatra'
However, unlike the south-to-north march, this one would be a shorter and a "multi-modal yatra" thanks to the many forests and rivers on this route, said Ramesh. The east-to-west journey may also not have Bharat Jodo Yatra's elaborate infrastructure, with fewer yatris participating.
"There is a lot of enthusiasm and energy. I also think it is needed but the format of the east-to-west yatra may turn out to be different from the format of the south-to-north Bharat Jodo Yatra," Ramesh told PTI. "Mostly, it would be a padayatra," he added.
Decision on date soon
Ramesh said the yatra may be planned either before June or before November because there are elections in Karnataka in April and other states in November, and monsoon will set in by June. A final decision is likely to be taken in the coming weeks.
On the concluding day of the Congress Plenary on Sunday, Rahul spoke about the marathon 1760-km Bharat Jodo Yatra that started in Tamil Nadu's Kanyakumari on September 7, 2022, and ended in Jammu and Kashmir's Srinagar on January 30 this year.
Also read: J-K wanted employment, love but got 'BJP's bulldozer': Rahul Gandhi
"For months we walked…for the Bharat Jodo Yatra…there were lakhs of people who walked with us despite extreme weather conditions…there was a lot to learn," he said.
Rahul also said the party should come up with a new plan to carry forward the "tapasya" of Bharat Jodo Yatra. He said he and the entire country would participate in it.
(With agency inputs)