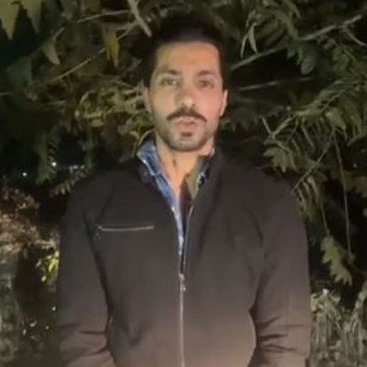 Punjabi actor-turned-activist Deep Sidhu is facing the heat from farmer leaders for allegedly inciting violence during the Republic Day 'tractor parade' protest in the national capital.
Sidhu had been summoned by the National Investigation Agency (NIA) two weeks ago in a sedition case against US-based banned pro-Khalistan outfit Sikhs For Justice.
Farmer leaders allege Sidhu has tried to defame the agitation against three Central agriculture laws. He had earlier voiced his differences with the Samyukt Kisan Morcha. "We condemn this act of Deep Sidhu in strong words and we think that he was working as a government agent. We didn't have any plans to go to Red Fort but he did not follow our guidelines and even misled some youth," said Bharatiya Kisan Union (Charuni) president Gurnam Singh Charuni.
Advertisement
Farmers have accused him of planting the 'Nishan Sahib' at the Red Fort, an act that has provoked outrage, especially on social media. Images of protesters armed with sticks and swords occupying the Mughal monument have drawn flak from even those who supported the farmers' agitation.
Also read: Akalis condemn violence in Delhi during farmers tractor parade
In a post on Facebook on Tuesday evening (January 26), Sidhu defended the act, saying the protesters did not remove the national flag, but put up 'Nishan Sahib' as a symbolic protest.
Also read: Red Fort should have reminded farmers violence destroys its practitioners
Many farmer leaders accused Sidhu of trying to turn the limelight back on himself after he was ignored by farm unions. "Sidhu posted a video claiming responsibility and justifying the act. Those who hoisted the flag at Red Fort were allowed a free passage as part of a conspiracy," said BKU (Ekta Ugrahan) general secretary Sukhdev Singh Kokri Kalan.
"To symbolically register our protest against the new farm legislation, we put up 'Nishan Sahib' and a farmer flag and also raised the slogan of Kisan Mazdoor Ekta," said Sidhu. He said the national flag was not removed from the flagpole at Red Fort.
"Deep Sidhu was the election agent of BJP candidate Sunny Deol. His picture with Narendra Modi had gone viral on social media. He led the charge at Red Fort, according to TV visuals. This hints at sabotage," said Hannan Mollah, leader of All India Kisan Sabha and a member of Samyukt Kisan Morcha.