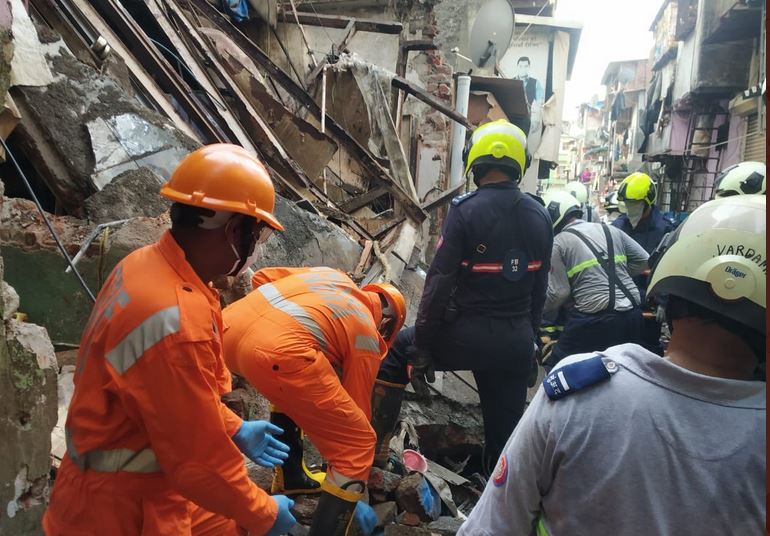 14 rescued in Mumbai wall collapse incident, operation underway
At least 14 people were rescued after a house collapsed in Mumbai's Kandivali locality on Sunday (May 10) morning.
Two of those rescued received minor injuries and were admitted to a hospital, an official said.
No casualty has been reported in the incident so far.
"G+1 house collapsed @ Sabria Masjid, Dalji Pada, Kandavali(West) arnd 06:00. All trapped persons rescued by MCGM, Mumbai fire Brigade, Police. @NDRFHQ team on site. As reported thankfully no deaths, few injured," NDRF director general Satyanarayan Pradhan tweeted.
According to reports, a part of the wall of Dipjyoti chawl in Link Road's Lalji Pada area gave way at 5 am. Fire department and rescue personnel reached the place at around 5.30 am.
Some locals said the incident took place when residents were asleep and they were unable to come out. Seven persons stranded on the upper floors were rescued after firefighters cut the grill and brought them down with the help of a ladder, the official said, adding that a total of 14 people have been brought out to safety from the structure.
Four fire engines, a rescue van and an ambulance were pressed into service. Two people, aged 45 and 48, received minor injuries and were admitted to Oscar Hospital, he said.
The rescue operation is still underway.
(With inputs from agencies)