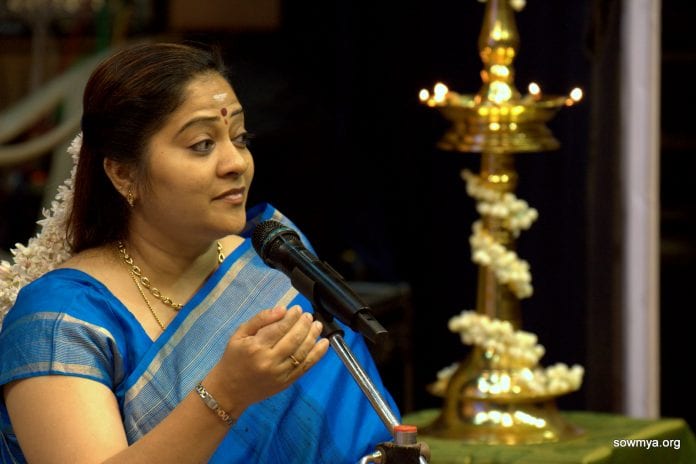 Just minutes into a casual tête-à-tête with Carnatic vocalist S Sowmya, I couldn't help but be in awe with her simplicity.
She has been recently conferred the prestigious Sangita Kalanidhi by The Music Academy. But, she remains untouched by awards and accolades that have come her way in her career spanning three decades.
Speaking to The Federal, she says that she wants her music to stand the test of time. "This award is a manifestation of what I have received from my gurus and elders. It doesn't end here for me. I want my music and my work to stand the test of time — it's like an after-death journey."
Advertisement
A disciple of legends like S Ramanathan and T Muktha of the Veena Dhanammal's school of music, Sowmya believes she has been fortunate to have the best of grooming. "In fact, it was Ramanathan sir who asked me to train under Muktha Amma. Under her, I learnt how to approach ragas and a unique style of singing."
"I remember them with a lot of gratitude for their guidance, along with my parents. I also owe it deeply to the support of people like (musician) Nithyashree's parents — Lalitha and Sivakumar — and other artistes like TR Rajamani. I am also indebted to Krishnaswamy Iyer, a connoisseur, who guided me a lot."
The gurukul memories
Growing up in an industrial town near Kochi in Kerala, she spent a major part of her childhood in then Madras at her guru Ramanathan's house. She says she would probably be the last of the crop of musicians to have a gurukul story to narrate to the next generation.
"Today, learners have social commitments and classes are timed. One of my students even asked me to restrict the classes to an hour. I was surprised. I would have been happy to continue if I were a student," she says.
From six to 18 years, till the demise of Ramanathan, Sowmya spent her holidays and all the free time learning and travelling with her guru to concerts. "The visits to Madras were something I looked forward to. In Kerala, my life revolved around four or five streets. Here, it was this big city and I saw many things for the first time — beach, television, telephone, etc," she recounts.
Also Read: Kamal, Rahman to collaborate after 19 years
The moment of epiphany
One would not believe her when she says that she was once singing only with clinical perfection, as she admits that a life-altering moment led her to pursue music with more heart and soul.
"Today, they call my performance cerebral, but the heart and soul in my music came only after my guide in IIT Madras prodded me to focus on music," she says.
"I was actually trying to ride two horses at the same time — pursuing my PhD in Chemistry and music, and it was during that time my guide said that I didn't realise how talented I was. And that is when I realised that music is what I should go for."
Changing audience, entry of young talent
Having toured across continents, the rasikas are the same globally, especially the Indians, Sowmya reckons. "But in Chennai, where a lot of concerts happen, people don't have enough patience to sit through a concert beyond two hours," she says.
Witnessing transient times, she also observes how Margazhi concert patterns have changed. "We had just one or two slots during that time with budding dancers, singers and instrumentalists vying for the slot. Today, there are a lot of opportunities."
"Nowadays, these young artistes are having their own concerts, but are not attending anyone else's. When I was a young performer, I used to go on concert hopping. It was not just me, but even Sanjay (vocalist Sanjay Subrahmanyan) was keen on listening to others," she says.
Further, she says that nowadays very few senior musicians attend concerts of young performers. "(Musicians) S Kalyanaraman and TN Seshagopalan have attended my concerts and they have always given me their valuable feedback. In fact, Seshagopalan Sir told me that I don't need only flies but also honeybees in my concerts," she says.
The proliferation of technology has led to further dwindling of numbers of those attending concerts, she says. "There's webcast, which works for the audiences abroad. However, even here, people do not turn up at concerts since the concerts are just a click away," she adds.
No gurus to guide
Sowmya also highlights the lack of gurus' guidance that young artistes face nowadays. "The young musicians are like swayambhus (self-manifested), and without any insight or advice from senior artistes, it is unfair to blame them for being off the track or trying to do their own thing."
"That is why I make it a point to attend all kinds of concerts. Having said that, younger artistes are today intelligent and are lot more exposed through social media. They should observe nuances and go deeper into aesthetics. When you learn a few kritis and are concert ready, you cannot envisage a long career or contribute to the art," she adds.
Also Read: Tamil film legacy disappearing into a blackhole
An equal mix
Sowmya believes in the optimal mix of conventional elements and modernity of technology. One among the first to start online music lessons, through 'Carnatica', she also believes that uniqueness and retaining the character of the school of music one hails from is equally important.
"That is why the GNB (musician GN Balasubramaniam) style continues to captivate music audiences, isn't it?" she asks. "The brigas (short variations) were unique to his school of music and I believe Veena Dhanammal's style stands for nuances and subtlety that is alluring for being considered to be elusive by many," she observes.