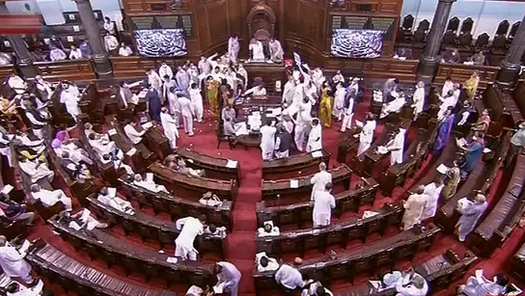 Parliament LIVE: LS, RS face disruptions as Cong alleges misuse of Central agencies
Lok Sabha proceedings were adjourned for the day on Thursday (August 4) amid sloganeering by Congress members against the alleged misuse of the Enforcement Directorate by the government.
As soon as the House met at 2 pm, papers were laid on the table and two resolutions adopted amid continued sloganeering by Congress members.
Kirit Solanki, who was in the chair, requested the protesting members to go back to their seats and allow the House to function, after which he adjourned the proceedings for the day.
Earlier in the day, Lok Sabha proceedings were adjourned till 2 pm as soon as Congress members displayed placards to protest against the actions of the Enforcement Directorate and price rise.
Amid sloganeering by Opposition members, the Question Hour went on till around 11:30 am and five questions, and supplementary, were taken up. Congress and other Opposition members protested against the ED action, GST on essential items and price rise.
However, at around 11:30 am, as soon as some Congress members displayed placards standing in the Well of the House, Speaker Om Birla adjourned the proceedings till 2 pm.
Congress leader in the House Adhir Ranjan Chowdhury was the first to display the placards and other members then brought placards to the House.
Earlier this week, when Birla had revoked the suspension of four Opposition members, he had also made it clear that they should not display placards inside the House. As soon as the proceedings began on Thursday, Opposition members sought to raise various issues and shouted slogans. With the Speaker not allowing them to raise the issues, Congress members trooped into the Well of the House while those from the DMK, NCP and CPI-M, among others, protested by standing at their seats.
RS adjourned
Rajya Sabha proceedings on Thursday (August 4) were adjourned for almost an hour as Congress members created uproar over the issue of alleged misuse of central probe agencies by the government.
Leader of the Opposition and senior Congress leader Mallikarjun Kharge charged that autonomous bodies were being misused by the government to settle political scores, an allegation that was countered by Treasury benches. This led to heated exchanges between MPs of the two sides.
Chairman M Venkaiah Naidu said he had not agreed to a discussion on the issue sought by Kharge and adjourned the proceedings till 12 noon. Soon after listed papers were laid on the table at the start of the day's proceedings, Naidu said he had received five notices under Rule 267 but none had been admitted.
You can't add multiple events in the same post, page or custom post type.