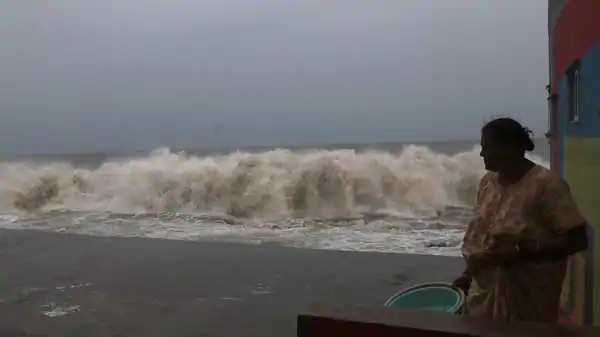 After storming the Maharashtra coast with wind speeds of up to 120 kmph on Wednesday (June 3) afternoon, Cyclone Nisarga has started weakening and its intensity will reduce further by evening, the India Meteorological Department (IMD) said.
Severe cyclonic storm Nisarga made its landfall at 11.30 am on Wednesday (June 3) near Maharashtra's Alibaugh at a speed of 100 kmph and will take three hours to complete, the India Meteorological Department (IMD) said.
"It will pass form the landward end over Alibaugh just brushing past the taluka at wind speed ranging from 85 to 90 kmph," Hindustan Times quoted Mahesh Kumar, inspector in charge of cyclone operations as saying.
Meanwhile, flight operations, which were earlier suspended at Mumbai's Chhatrapati Shivaji Maharaj International Airport till 7 pm on Wednesday in view of the ongoing landfall of cyclone Nisarga, will now resume from 6 pm.
The decision to halt flight operations came after a cargo aircraft belonging to FedEx, veered off the main runway of the Mumbai airport on its arrival from Bengaluru, according to Mumbai International Airport Ltd's (MIAL's) statement.
"Chhatrapati Shivaji Maharaj International Airport witnessed a runway excursion today (Wednesday) with FedEx flight 5033 arriving from Bengaluru. The incident occurred when the MD11 aircraft landed on runway 14/32," it said.
The aircraft was towed away from the runway and there has been no disruption in flight operations, the statement noted.
Maharashtra and Gujarat, which are likely to take the maximum hit of the cyclone, have heightened security and relief measures and evacuated people from low-lying areas.
Extensive damage is expected in Raigad, Mumbai, Thane and neighbouring areas.
The Maharashtra government has also released a list of dos and don'ts for people. The IMD has issued a red alert for seven coastal districts of Maharashtra and predicted heavy rains in coastal Gujarat.