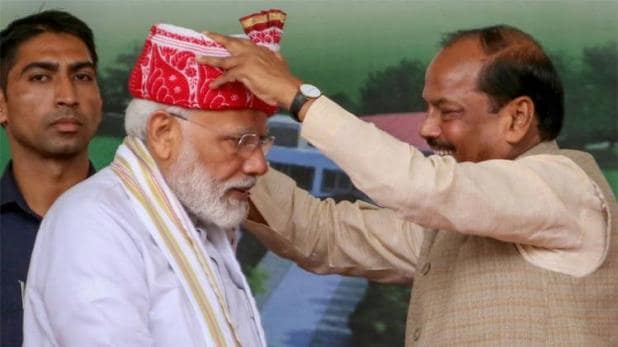 In the first phase of the Assembly elections in Jharkhand that goes to polls on November 30, local issues seem to have outweighed the BJP's national agenda. The saffron party which is in power in the state will have to do more than just chest-thumping on the abrogation of Article 370 in Kashmir and the Ayodhya verdict, to convince voters to press the ballot button in its favour.
How regional parties score over BJP
Unemployment, failure of the public distribution system, rising cases of mob lynching and attempts to grab land through an amendment to the Chotanagpur Tenancy Act, 1908 (CNT Act) are issues that currently peeve the public more than anything else.
The BJP, that recently broke ties with its 19-year old ally All Jharkhand Students' Union (AJSU) party, faces strong anti-incumbency in the state. And now it seems like a close contest between the BJP and the united opposition that includes the Jharkhand Mukti Morcha (JMM), the Congress and the Rashtriya Janata Dal (RJD), which are trying to change the political discourse towards local issues.
Advertisement
Though the BJP-AJSU alliance swept the state in the recent Lok Sabha elections, winning 13 of the 14 seats, the state elections seem to pose a different battle for the ruling saffron party.
"Amit Shah, in a recent rally in Latehar, spoke at length about building a Ram Temple. But will building a grand temple help me in getting a job? Will it solve the problem of poverty that exists in my village? How will the people of Jharkhand benefit out of a Ram Mandir plan," asks 32-year-old Sanaullah Ansari, a resident of Keratoli village in Lohardaga.
Ansari, who has completed BA and holds a diploma in Elementary Education (teacher training) is unemployed and waiting for the government to call for jobs.
In the tribal reserved constituency in Lohardaga, the BJP has fielded rebel Congress leader Sukhdeo Bhagat against Congress state president and former MP Rameshwar Oroan and AJSU party candidate Niru Shanti Bhagat, who is the wife of Kamal Kishore who was jailed in connection with a murder case.  The BJP faces infighting within the party at the local level in the constituency.
Also read | BJP releases poll manifesto in Jharkhand, promises jobs to BPL families 
Mohammad Safiruddin, another resident, who voted for the BJP in the Lok Sabha elections, expressed his discontent over demonetisation and its impact on the poor. He also pointed to apparent loopholes in the Centre's direct transfer benefit for household LPG gas cylinders.
"People working in mines and farms earn around ₹3,000-4,000 a month. How can they afford to pay ₹1000 for cooking gas? Besides, there is no way for them to know if the subsidy has been reimbursed and it's a painful process to withdraw that money," said 82-year-old Safiruddin.
The Maharashtra effect
The recently held Haryana and Maharashtra elections, and the political drama that unfolded in the states after the results were declared, have a bearing on the Jharkhand elections. People in urban pockets were critical of the BJP which had to rely on a post-poll alliance in Haryana; and in Maharashtra formed a hush-hush government after breaking ties with long-time ally Shiv Sena, but in vain.
"When a BJP leader resorts to buying and selling of MLAs and engineers defection he/she is called Chanakya.  But when others do it, they are termed as thieves. How it that right?" asks Manoj Agarwal, a resident of Latehar. "If the party has funds to purchase MLAs, why can't it spend that money on Jharkhand and improve the region," he adds.
In the 81-member Assembly in Jharkhand, the BJP and its ally came to power in 2014 with a simple majority of 42 seats (37 BJP and five AJSU MLAs). The previous two elections in 2005 and 2009 held after the formation of the state in 2000, witnessed fractured mandates. No chief minister before the current Raghubar Das has completed full term before.
Also read | Jharkhand assembly elections to be held in 5 phases from Nov 30
But despite the flaws of the BJP, Das and Prime Minister Narendra Modi enjoy support of loyal voters in certain pockets of the state.
"If there is no engine, how will the train run? So, irrespective of how good or bad the state leadership is, we will support Modi. There's no denial," says Avdesh Prasad Agarwal in Lohardaga town.
Another voter, Bandan Bhagat of Hanat village says he has witnessed his fellow villagers getting houses, toilets and gas connections under the government scheme and hence his vote is assured for the saffron party.
Address local issues, win votes, say public
That said, many voters in Latehar, Lohardaga, Daltonganj and Manika Assembly constituencies said local issues are the poll plank that will help the contesting parties win public mandate. In Muslim dominated pockets, the fear of mob lynching over beef transportation is a sign of worry. And in tribal-dominated segment, the proposed amendment to various legislations to grab land remains a contentious issue. The failure of public distribution system in remote villages in forest regions of the state is another concern.
In Ambatoli village of Latehar district, Budhni Birijiyan, an 80-year-old widow from the Birijiya community died of starvation in January this year. Although Budhni's community that is considered a Particularly Vulnerable Tribal Group (PVTG) is entitled to 35 kg of food grain every month, many of them don't have a ration card and rue that they haven't been given one despite applying several times.
Budhni's family claims they do not have a ration card yet and have not been benefited from any social welfare schemes either.
Villagers in Ambatoli said they were not given the entitled monthly ration and that their long-pending application for ration cards have not been looked into.
"When our grandmother died, some official gave us 40-50kg rice. And they promised us of giving a ration card soon. However, we haven't got one to date. But political parties show no shame in seeking vote despite not solving our basic problem of hunger," said Budhni's grandson Basant Birijiyan, who works as a daily wage labourer.
Shivbajan Singh, a drought-affected farmer in Palamau district who came to sell his two cows expecting ₹5,000 did not find a buyer even after waiting for four hours.
"There are fewer buyers because many fear they'd be lynched on the way while transporting cows. This kind of action by vigilante groups is killing our income potential in difficult times," Singh says.
After Tabrez Ansari (24) was beaten to death in a mob lynching incident in Kharsawan district of Jharkhand, a sense of fear persisted among the Muslim community. Besides, farmers claimed cattle trade was affected.
The potential buyers were willing to give only ₹2,000 for each. Singh says he can not recover the cost he spent to take care of those cows. He claims that the prices have dropped by more than 50 per cent in the past four years.