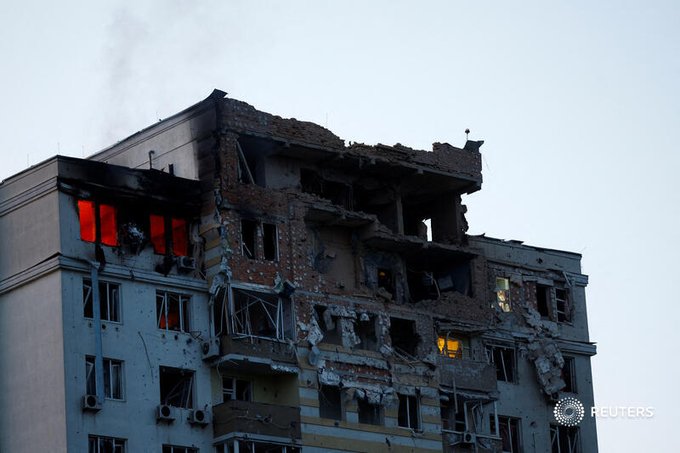 Ukraine: Russia relentlessly bombards Kyiv in pre-dawn attack
Russia launched a pre-dawn attack on Ukraine's capital on Tuesday (May 30) as its air defences worked to stop drones in what has been a relentless wave of daylight and night-time bombardments targeting Kyiv.
The buzzing of drones and loud explosions were heard as Ukrainian air defence responded to the third Russia aerial attack on the capital in the last 24 hours. According to preliminary data, more than 20 Shahed drones were destroyed by air defence forces in Kyiv's airspace, the Kyiv Military Administration says.
Also read: G7 urges China to press Russia to end Ukraine war, respect Taiwan's status, fair trade rules
One person died and three were injured when a high-rise building in the Holosiiv district caught fire.
"The two upper floors are destroyed, and there may be people under the rubble," the Kyiv military administration said.
More than 20 people were evacuated.
Ukrainian defense forces said they shot down more than 20 drones during a fresh wave of Russian air attacks on Kyiv which killed at least one person and injured four others when their apartment building was hit and caught fire https://t.co/9pYIGv7N3J pic.twitter.com/EEizRYzwcu

— Reuters (@Reuters) May 30, 2023
Elsewhere in the capital, falling debris caused a fire in a private house in the Darnytskyi district and three cars were set alight in the Pechersky district, according to the military administration.
The series of attacks that began on Sunday (May 28) included a rare daylight attack on Monday (May 29) that left puffs of white smoke in the blue skies.
Russian forces fired 11 ballistic and cruise missiles at Kyiv at about 11:30 am, according to Ukraine's chief of staff, Valerii Zaluzhnyi. "All of them were shot down," he said.
Also read: Russian missile and drone attack in Ukraine kills 16 people
"Debris from the intercepted missiles fell in Kyiv's central and northern districts during the morning, landing in the middle of traffic on a city road and also starting a fire on the roof of a building," the Kyiv military administration said. At least one civilian was reported hurt.
The Russian Defence Ministry said it launched a series of strikes early Monday (May 29) targeting Ukrainian air bases with precision long-range air-launched missiles. The strikes destroyed command posts, radars, aircraft, and ammunition stockpiles, it claimed. It didn't say anything about hitting cities or other civilian areas.
(With inputs from agencies)