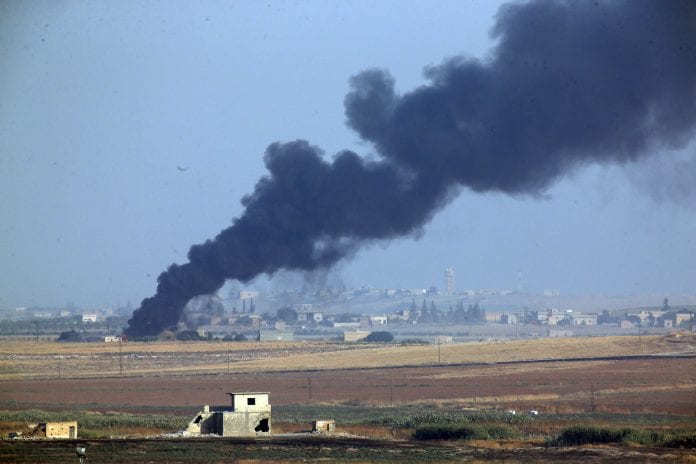 Turkey jets launched a military operation against Kurdish fighters in northeast Syria on Wednesday (October 8). Turkish President Recep Tayyip Erdogan took to Twitter, announcing the start of the action and said the aim was to eliminate 'terror corridor'. This comes days after US troops pulled back, with warplanes and artillery striking militia positions in several towns in the border region.
"Operation Peace Spring will neutralise terror threats against Turkey and lead to the establishment of a safe zone, facilitating the return of Syrian refugees to their homes. We will preserve Syria's territorial integrity and liberate local communities from terrorists," he wrote on his Twitter page, as witnesses reported explosions in several points along the border.
The bombings sent several civilians fleeing from their town and villages along the border. According to news reports, Kurdish authorities claimed the strikes had caused some causalities.
Advertisement
For years, Turkey has threatened to attack Kurdish forces in Syria, but the operation has been set into motion after US president Donald Trump gave green signal to the Turkish invasion. He later threatened to "obliterate" Turkey's economy if it went too far. He also insisted the United States had not abandoned its Kurdish allies by pulling forces out of the area.
Trump has blown hot and cold since a surprise announcement on Sunday (October 6) that Washington was pulling back 50 to 100 "special operators" from Syria's border with Turkey.
On Wednesday, the Kurdish administration said it would hold its US ally and the whole international community responsible for any "humanitarian catastrophe" that unfolds in the territory under its control. Kurdish forces took heavy losses in the US-backed campaign against the Islamic State group in Syria which they spearheaded.
In March, they declared the territorial defeat of IS after overrunning the jihadists last redoubt in the village of Baghouz in eastern Syria. Ankara strongly opposed Washington's support for Kurdish forces in Syria citing their links to the outlawed Kurdistan Workers Party (PKK) which has fought a deadly insurgency against the Turkish state since 1984.
Turkey has already carried out two cross-border offensives into Syria, including one in 2018 that saw it and allied Syria rebels overrun the majority-Kurdish Afrin enclave in the northwest.
(With inputs from agencies)