The Sri Lankan government has found clear links between the group behind the Easter Sunday attacks (April 21) and the Islamic State (ISIS). The leader of the group, Zaharan Hashim, established connection with ISIS while in Tamil Nadu.
"He went underground at one point and we observed that he went to India. We worked with Indian intelligence agencies and we knew that he got information and we observed he leaned towards ISIS in India," an Army intelligence source said.
Hashim's history
Advertisement
Hashim, who broke away from the National Thawheed Jama'ut (NTJ), set up his own group and gathered a following. Another terror group in Sri Lanka, the Jammiyathul Millathu Ibrahim (JMI), helped in his propaganda activities and gathered momentum with discussions leaning towards ISIS ideology, intelligence sources said. "It is this breakaway group that is responsible for the April 21 bombings," intelligence source said.
Among the seven attackers were siblings Mohamed Ibrahim Insaf Ahamed and Mohamed Ibrahim Ilham. Zaharan Hashim and the latter attacked the Shangri La hotel in Colombo. Mohamed Ibrahim Insaf Ahamed targeted the Cinnamon Grand. The Ibrahim brother's father is in custody now.
Jamil Mohomad Abdul Lathif is the Dehiwala bomber. He travelled to Syria but returned after a few days. Jarred Thausi travelled with him and ended up in Turkey. Nothing is known of him now.
Spouse's bomb
A spouse of one of the attackers detonated a bomb at their house in Dematagoda, killing herself and two children.
The Sri Lankan security forces are now hunting for the 140 members of this extremist group. As Sri Lankan authorities crack down on suspected terror hideouts, mourners file in to cemeteries to bury their loved ones.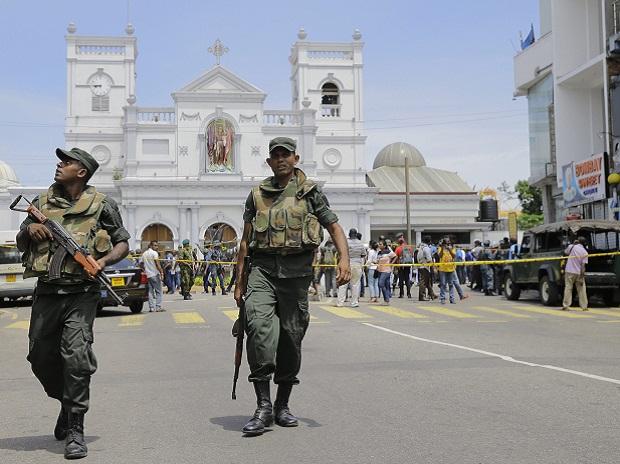 Family and friends stood silently as Christian and Hindu funeral rites were performed on  sealed coffins of both Rosry Denilson Ruban and his wife, Sinnaiya Kayalwili, in a crowded funeral parlour in Colombo. Ruban and his wife were among the 359 killed during the Easter Sunday attacks, his two children, a son and daughter, are still in hospital.
"It took us so long to get any news of the family, first we found the son, thankfully, he is not in a critical condition," said S Deen, Ruban's employer for 17 years. He can only recollect with horror the events since Sunday. From when he heard the news of bombing, he tried to find the whereabouts of his employee. And when they found the young man, he asked, "Is Amma and Appa ok?"
"That is all he asked," says Kayalvizhi's niece, as she watches the rituals silently. Amidst the chaos, the family was unable to find any news his sibling. Fearing the worst, they frantically combed every ward in the Colombo National Hospital. It was only on Tuesday that the family got information that she was in the intensive Care Unit (ICU).
"We don't know if she will make it," says Deen, who wants to take both children under his care. A man of Muslim faith, Deen is unable to come to grips with what happened. He is terrified of retaliation, and more attacks. "I have to go to the mosque on Friday, but I am scared to go, they may attack. These terrorists have no religion," he worries.
Prayers cancelled
Fearing further attacks and as a mark of respect for the lost lives, Friday Jumma prayers were cancelled. "The reasons we didn't have the jumma prayers today is because of security concerns. Also, it is in solidarity with the Christians who have cancelled their Sunday mass indefinitely. When the affected community have cancelled their prayers, how can we hold prayers. So we sought an opinion and decided not to have prayers," Muslim Council of Sri Lanka vice-president Hilmy Ahamed said.
The small island nation was in the grip of fear this week as warnings and rumours of further attacks spread across the country. Security forces carried out spot checks and intensified patrolling. During the week, over 60 people were arrested. Some 33 of them were being questioned by the country's Criminal Investigation Department while another four are being detained by the Terrorist Investigation Department. Colombo remains on high alert.
Never ending services
In Negombo, the Katuwapitiya church holds one funeral mass after other in a temporary shed decorated in white, the colour of mourning. Following advice from priests against gathering in large numbers for burials, only a few family members accompany the coffins to the cemetery.
At one burial ground, a Catholic priest performed the last rites on the 22th coffin brought in on the day. Three male family members accompanying the coffin watched as a backhoe piled soil on the coffin. The priest silently placed a wooden cross with number 22 taken from the pile that lay on a side.
"We have never seen this kind of damage in Negombo, even during the height of the war. I don't know what to make of this. I don't understand this," said Poornika Rupasinghe, 36, who had come to the cemetery with one funeral procession.
Security lapse
"There has been a security lapse," State defense Minister Ruwan Wijewardene said.
According to the president, who is also the defence minister, the first report from Indian intelligence agencies came to Sri Lanka on April 4. The letter was then circulated till April 12. The letter which came to the Defence Ministry secretary Hemasiri Fernando was forwarded to the inspector-general of police, Pujitha Jayasundara, who then forwarded it to a number of departments in the police as a routine procedure. Neither was the president briefed nor was any precaution taken, Sirisena said. Urgent calls were placed by the Indian intelligence to their Sri Lankan counterparts closer to Easter Sunday and yet no action was taken. Fernando has resigned since the blasts but noted that he had done his duty. The IGP appeared before the committee appointed by the president to investigate security lapses.
Prime minister Ranil Wickremesinghe, in a televised address to the nation, formally accepted responsibility. Immediately after the attack, Wickremesinghe said he was unaware of the intelligence inputs from India and was kept out of the National Security Council briefings.
(Chathuri Dissanayake is a Colombo-based freelance journalist).