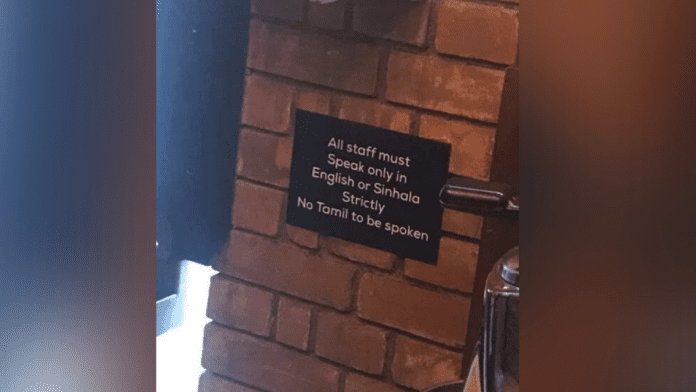 A restaurant in Sri Lanka faced backlash after it put up a notice in its premises asking its staff to speak only in English or Sinhala and asked its staff strictly not to speak in Tamil.
Recently, Peppermint cafe, a restaurant at Horton place in Colombo recently put up a notice saying, "All staff must speak only in English or Singala. Strictly no Tamil to be spoken." The notice came under sharp criticism from the people in Sri Lanka and the social media was abuzz trolling the restaurant for its racist comments since Tamil is also one of the official languages in Sri Lanka.
Reacting to one of the comments posted to the Peppermint Café's Facebook post, the management apologised for any misunderstanding caused through the post.
"The sole reason for this poster was due to guest complaints that staff had been speaking in Tamil language in the café and it seemed like the staff were 'joking about customers'. So, in order for this to be stopped we had put out many circulars internally, but to no avail," the comment posted from Peppermint read.
However, a resident of Colombo Stephanie Justin, one of the Tamils, who settled in Sri Lanka said, "Although the restaurant says that it had put up the notice because the staff were "seemed" to be joking at the customers, then what needs to be set right is the attitude of the staff not the denial of speaking the language,"
She also questioned if the staff were Singalese and joked in Sinhala, then would they really put up a notice as such.
Many took to social media to criticise the restaurant's move.
Deputy Editor Ceylon Today, Sulochana Ramiah Mohan in her Facebook post said that it shows zero tolerance on other languages. "Even a minor incident they need to react in such manner lessly attitude should be condemned by all means. Seems the workers don't know how to behave and that's why this notice .Should we ever go there and pump up their racism?" she questioned in her Facebook post.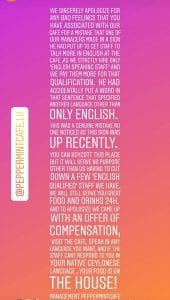 After the matter went out of their control, the restaurant removed the notice and have put up another board saying "Avoid speaking in a language that's only understood by you, whilst the customers doesn't,"
However, Justin said even the customers who are most likely to be visiting the café are going to either be a tamilian or a sinhalese. "So it's understandable who the new board is implying currently. I think it's high time the restaurant understands that both Sinhala and Tamil are official languages," Justin said.
On Tuesday evening, the restaurant management came out with an apology stating that they had put up to get staff to talk more in English at the café as they strictly hire only English speaking staff and they pay more for that qualification.
"He had accidentally put a word in that sentence that specified another language other than English. You can boycott this place. But it will serve no purpose other than us having to cut down a few English qualified staff we have," the management said in a statement.
"And to apologise we came up with an offer of compensation, visit the café speak in any language you want and if the staff cannot respond to you in your native Ceylonese language, your food is on the house," the management said.
In a video released on Wednesday, Peppermint Café's Assistant Manager Akram said that it was not actually intended to.
"People from different countries visit this restaurant. We have instructed our staff to talk in a language that all can understand. They can talk in any language with the customers. We have not put any restrictions on it. But, few here do not know, English or Sinhala. They always talk in Tamil only," Akram said.
"Restrictions were not for the customers. We have asked our staff to talk among themselves in a language that customers can understand. It was not intended to insult the Tamil. We have strongly apologised for it. It was a printing mistake," Akram claimed.
Reacting to it, Official languages minister Mano Ganesan said that it is a violation of fundamental rights to equality of the constitution. "I have instructed official languages Commission to step-in. Violators may have to face legal consequences," he said.