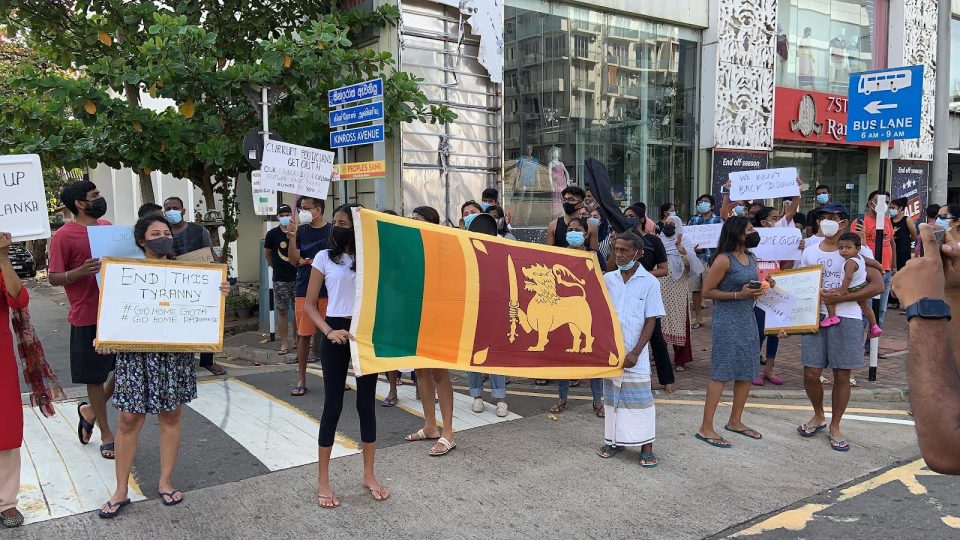 Sri Lankan forces use tear gas, water cannons to disperse protesters
Opposition legislators and social media activist flout 36-hour weekend curfew in protest against Island's worse economic crisis
The economic and political crisis in Sri Lanka crisis worsened on Sunday with more than 600 protesters arrested in the western province for violating a 36-hour nationwide curfew imposed by the government on Saturday. The protest was organised by social media activists against the economic crisis in the country, which has seen shortages and skyrocketing prices of essential commodities.
In the capital Colombo, heavily armed security forces blocked a march led by opposition leader Sajith Premadasa. According to various reports, police and soldiers carried assault rifles. "We are protesting the government's abuse of the public security ordinance to deny the public's right to protest," news agencies quoted Premadasa as saying.
In Kandy hundreds of students defied the curfew and were met with overwhelming force, with security forces using tear gas and water cannon to disperse them.
Social media sites blocked
President Gotabaya Rajapaksa had on Friday declared a public emergency. This was followed by an order imposing the curfew, an apparent bid to foil Sunday's protest march. Access to major social media platforms such as Facebook and Twitter was also restricted following the curfew order.
5.00 PM : 🪧📍- Ratmalana, Sri Lanka

Despite bans on Public Assembly and an islandwide curfew in full force, citizens continue to protest. #lka #SriLankaCrisis #SriLankaEconomicCrisis pic.twitter.com/l8C5JTpOGc

— Dasuni Athauda (@AthaudaDasuni) April 3, 2022
Internet users in most of the country were unable to access Facebook, Twitter, YouTube, WhatsApp and other social media, after the platforms had been used to organise demonstrations calling for Rajapaksa's to resignation.
Netblocks, a global internet monitor, confirmed that network data collected from over 100 vantage points across Sri Lanka showed the restrictions coming into effect across multiple providers from midnight.
Rajapaksa's nephew dissents
The move to block social media has come in for criticism from the government's own ranks, reports Outlook. Namal Rajapaksa, the sports minister and Rajapaksa's nephew, told reporters that the blockade was useless as many people would use VPNs to access sites. The government's blockade forced top government information communications technology official Oshada Senanayake to resign.
"I am sorry I could not do more but circumstances are such and as I always said I would vehemently stand by my principles and ethos I believe in," he tweeted.
I will never condone the blocking of social media. The availability of VPN, just like I'm using now, makes such bans completely useless. I urge the authorities to think more progressively and reconsider this decision. #SocialMediaBanLK #SriLanka #lka

— Namal Rajapaksa (@RajapaksaNamal) April 3, 2022
Air India to reduce flights
Meanwhile, Air India announced that it will reduce its services to Sri Lanka from 16 flights per week to 13 from April 9 due to poor demand.
Sri Lanka is currently experiencing its worst economic crisis in history. With long lines for fuel, cooking gas, essentials in short supply and long hours of power cuts, the public has been suffering for weeks.
A severe shortage of foreign currency has left the government unable to pay for essential imports, including fuel, leading to debilitating power cuts lasting up to 13 hours.
Ordinary Sri Lankans are also dealing with shortages and soaring inflation, after the country steeply devalued its currency last month ahead of talks with the International Monetary Fund for a loan programme.